The importance of play and recess
According to the American Academy of Pediatrics (2007), unstructured play is an integral part of a child's development. It builds creativity, problem solving skills, and social relationships. Play also allows children to develop a theory-of-mind as they imaginatively take on the perspective of others.
Outdoor play allows children the opportunity to directly experience and sense the world around them. While doing so, they may collect objects that they come across and develop lifelong interests and hobbies. They also benefit from increased exercise, and engaging in outdoor play can actually increase how much they enjoy physical activity. This helps support the development of a healthy heart and brain. Unfortunately, research suggests that today's children are engaging in less and less outdoor play (Clements, 2004). Perhaps, it is no surprise to learn that lowered levels of physical activity in conjunction with easy access to calorie-dense foods with little nutritional value are contributing to alarming levels of childhood obesity (Karnik&Kanekar, 2012).
Despite the adverse consequences associated with reduced play, some children are over scheduled and have little free time to engage in unstructured play. In addition, some schools have taken away recess time for children in a push for students to do better on standardized tests, and many schools commonly use loss of recess as a form of punishment. Do you agree with these practices? Why or why not?
Adolescence
Adolescence is a socially constructed concept. In pre-industrial society, children were considered adults when they reached physical maturity, but today we have an extended time between childhood and adulthood called adolescence. Adolescence is the period of development that begins at puberty and ends at emerging adulthood, which is discussed later. In the United States, adolescence is seen as a time to develop independence from parents while remaining connected to them ( [link] ). The typical age range of adolescence is from 12 to 18 years, and this stage of development also has some predictable physical, cognitive, and psychosocial milestones.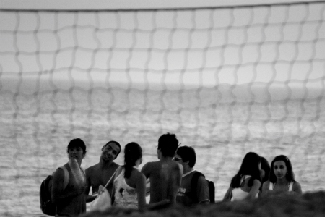 Physical development
As noted above, adolescence begins with puberty. While the sequence of physical changes in puberty is predictable, the onset and pace of puberty vary widely. Several physical changes occur during puberty, such as adrenarche and gonadarche , the maturing of the adrenal glands and sex glands, respectively. Also during this time, primary and secondary sexual characteristics develop and mature. Primary sexual characteristics are organs specifically needed for reproduction, like the uterus and ovaries in females and testes in males. Secondary sexual characteristics are physical signs of sexual maturation that do not directly involve sex organs, such as development of breasts and hips in girls, and development of facial hair and a deepened voice in boys. Girls experience menarche , the beginning of menstrual periods, usually around 12–13 years old, and boys experience spermarche , the first ejaculation, around 13–14 years old.