Cognitive development
Because we spend so many years in adulthood (more than any other stage), cognitive changes are numerous. In fact, research suggests that adult cognitive development is a complex, ever changing process that may be even more active than cognitive development in infancy and early childhood (Fischer, Yan,&Stewart, 2003).
There is good news for the middle age brain. View this brief video to find out what it is.
Unlike our physical abilities, which peak in our mid-20s and then begin a slow decline, our cognitive abilities remain steady throughout early and middle adulthood. Our crystalized intelligence (information, skills, and strategies we have gathered through a lifetime of experience) tends to hold steady as we age—it may even improve. For example, adults show relatively stable to increasing scores on intelligence tests until their mid-30s to mid-50s (Bayley&Oden, 1955). However, in late adulthood we begin to experience a decline in another area of our cognitive abilities—fluid intelligence (information processing abilities, reasoning, and memory). These processes become slower. How can we delay the onset of cognitive decline? Mental and physical activity seems to play a part ( [link] ). Research has found adults who engage in mentally and physically stimulating activities experience less cognitive decline and have a reduced incidence of mild cognitive impairment and dementia (Hertzog, Kramer, Wilson,&Lindenberger, 2009; Larson et al., 2006; Podewils et al., 2005).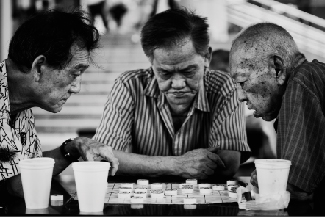 Psychosocial development
There are many theories about the social and emotional aspects of aging. Some aspects of healthy aging include activities, social connectedness, and the role of a person's culture. According to many theorists, including George Vaillant (2002), who studied and analyzed over 50 years of data, we need to have and continue to find meaning throughout our lives. For those in early and middle adulthood, meaning is found through work (Sterns&Huyck, 2001) and family life (Markus, Ryff, Curan,&Palmersheim, 2004). These areas relate to the tasks that Erikson referred to as generativity and intimacy. As mentioned previously, adults tend to define themselves by what they do—their careers. Earnings peak during this time, yet job satisfaction is more closely tied to work that involves contact with other people, is interesting, provides opportunities for advancement, and allows some independence (Mohr&Zoghi, 2006) than it is to salary (Iyengar, Wells,&Schwartz, 2006). How might being unemployed or being in a dead-end job challenge adult well-being?
Positive relationships with significant others in our adult years have been found to contribute to a state of well-being (Ryff&Singer, 2009). Most adults in the United States identify themselves through their relationships with family—particularly with spouses, children, and parents (Markus et al., 2004). While raising children can be stressful, especially when they are young, research suggests that parents reap the rewards down the road, as adult children tend to have a positive effect on parental well-being (Umberson, Pudrovska,&Reczek, 2010). Having a stable marriage has also been found to contribute to well-being throughout adulthood (Vaillant, 2002).
Another aspect of positive aging is believed to be social connectedness and social support. As we get older, socioemotional selectivity theory suggests that our social support and friendships dwindle in number, but remain as close, if not more close than in our earlier years (Carstensen, 1992) ( [link] ).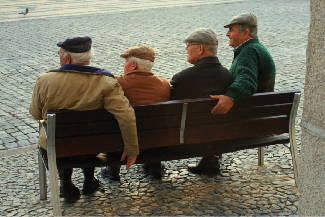 To learn more, view this video on aging in America.
Summary
At conception the egg and sperm cell are united to form a zygote, which will begin to divide rapidly. This marks the beginning of the first stage of prenatal development (germinal stage), which lasts about two weeks. Then the zygote implants itself into the lining of the woman's uterus, marking the beginning of the second stage of prenatal development (embryonic stage), which lasts about six weeks. The embryo begins to develop body and organ structures, and the neural tube forms, which will later become the brain and spinal cord. The third phase of prenatal development (fetal stage) begins at 9 weeks and lasts until birth. The body, brain, and organs grow rapidly during this stage. During all stages of pregnancy it is important that the mother receive prenatal care to reduce health risks to herself and to her developing baby.
Newborn infants weigh about 7.5 pounds. Doctors assess a newborn's reflexes, such as the sucking, rooting, and Moro reflexes. Our physical, cognitive, and psychosocial skills grow and change as we move through developmental stages from infancy through late adulthood. Attachment in infancy is a critical component of healthy development. Parenting styles have been found to have an effect on childhood outcomes of well-being. The transition from adolescence to adulthood can be challenging due to the timing of puberty, and due to the extended amount of time spent in emerging adulthood. Although physical decline begins in middle adulthood, cognitive decline does not begin until later. Activities that keep the body and mind active can help maintain good physical and cognitive health as we age. Social supports through family and friends remain important as we age.
Personal application questions
Imagine you are a nurse working at a clinic that provides prenatal care for pregnant women. Your patient, Anna, has heard that it's a good idea to play music for her unborn baby, and she wants to know when her baby's hearing will develop. What will you tell her?
Got questions? Get instant answers now!