Cognitive empathy , also known as theory-of-mind (which we discussed earlier with regard to egocentrism), relates to the ability to take the perspective of others and feel concern for others (Shamay-Tsoory, Tomer,&Aharon-Peretz, 2005). Cognitive empathy begins to increase in adolescence and is an important component of social problem solving and conflict avoidance. According to one longitudinal study, levels of cognitive empathy begin rising in girls around 13 years old, and around 15 years old in boys (Van der Graaff et al., 2013). Teens who reported having supportive fathers with whom they could discuss their worries were found to be better able to take the perspective of others (Miklikowska, Duriez,&Soenens, 2011).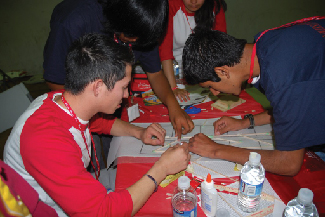 Psychosocial development
Adolescents continue to refine their sense of self as they relate to others. Erikson referred to the task of the adolescent as one of identity versus role confusion. Thus, in Erikson's view, an adolescent's main questions are "Who am I?" and "Who do I want to be?" Some adolescents adopt the values and roles that their parents expect for them. Other teens develop identities that are in opposition to their parents but align with a peer group. This is common as peer relationships become a central focus in adolescents' lives.
As adolescents work to form their identities, they pull away from their parents, and the peer group becomes very important (Shanahan, McHale, Osgood,&Crouter, 2007). Despite spending less time with their parents, most teens report positive feelings toward them (Moore, Guzman, Hair, Lippman,&Garrett, 2004). Warm and healthy parent-child relationships have been associated with positive child outcomes, such as better grades and fewer school behavior problems, in the United States as well as in other countries (Hair et al., 2005).
It appears that most teens don't experience adolescent storm and stress to the degree once famously suggested by G. Stanley Hall, a pioneer in the study of adolescent development. Only small numbers of teens have major conflicts with their parents (Steinberg&Morris, 2001), and most disagreements are minor. For example, in a study of over 1,800 parents of adolescents from various cultural and ethnic groups, Barber (1994) found that conflicts occurred over day-to-day issues such as homework, money, curfews, clothing, chores, and friends. These types of arguments tend to decrease as teens develop (Galambos&Almeida, 1992).
Emerging adulthood
The next stage of development is emerging adulthood . This is a relatively newly defined period of lifespan development spanning from 18 years old to the mid-20s, characterized as an in-between time where identity exploration is focused on work and love.
When does a person become an adult? There are many ways to answer this question. In the United States, you are legally considered an adult at 18 years old. But other definitions of adulthood vary widely; in sociology, for example, a person may be considered an adult when she becomes self-supporting, chooses a career, gets married, or starts a family. The ages at which we achieve these milestones vary from person to person as well as from culture to culture. For example, in the African country of Malawi, 15-year-old Njemile was married at 14 years old and had her first child at 15 years old. In her culture she is considered an adult. Children in Malawi take on adult responsibilities such as marriage and work (e.g., carrying water, tending babies, and working fields) as early as 10 years old. In stark contrast, independence in Western cultures is taking longer and longer, effectively delaying the onset of adult life.