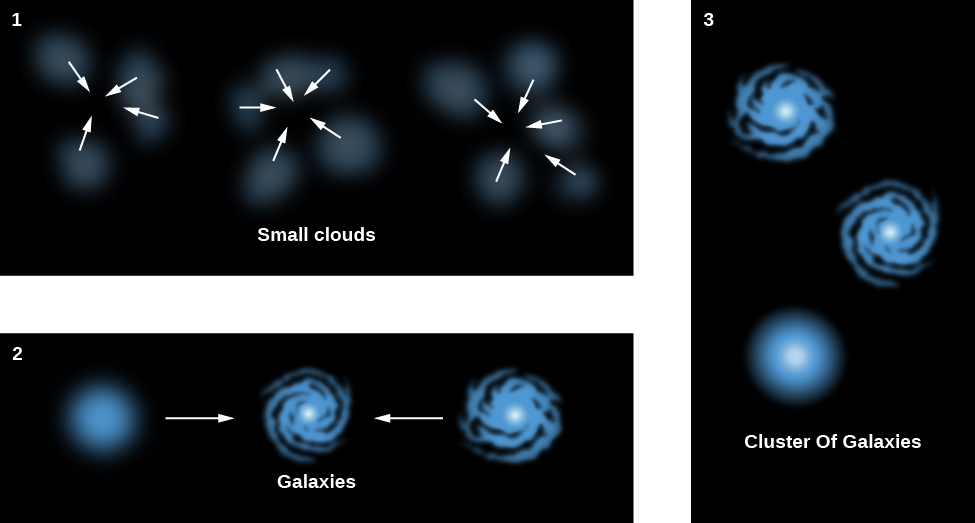 Most giant elliptical galaxies formed through the collision and merger of many smaller fragments. Some spiral galaxies may have formed in relatively isolated regions from a single cloud of gas that collapsed to make a flattened disk, but others acquired additional stars, gas, and dark matter through collisions, and the stars acquired through these collisions now populate their halos and bulges. As we have seen, our Milky Way is still capturing small galaxies and adding them to its halo, and probably also pulling fresh gas from these galaxies into its disk.
Key concepts and summary
Initially, luminous and dark matter in the universe was distributed almost—but not quite—uniformly. The challenge for galaxy formation theories is to show how this "not quite" smooth distribution of matter developed the structures—galaxies and galaxy clusters—that we see today. It is likely that the filamentary distribution of galaxies and voids was built in near the beginning, before stars and galaxies began to form. The first condensations of matter were about the mass of a large star cluster or a small galaxy. These smaller structures then merged over cosmic time to form large galaxies, clusters of galaxies, and superclusters of galaxies. Superclusters today are still gathering up more galaxies, gas, and dark matter. And spiral galaxies like the Milky Way are still acquiring material by capturing small galaxies near them.
For further exploration
Articles
Andrews, B. "What Are Galaxies Trying to Tell Us?" Astronomy (February 2011): 24. Introduction to our understanding of the shapes and evolution of different types of galaxies.
Barger, A. "The Midlife Crisis of the Cosmos." Scientific American (January 2005): 46. On how our time differs from the early universe in terms of what galaxies are doing, and what role supermassive black holes play.
Berman, B. "The Missing Universe." Astronomy (April 2014): 24. Brief review of dark matter, what it could be, and modified theories of gravity that can also explain it.
Faber, S., et al. "Staring Back to Cosmic Dawn." Sky&Telescope (June 2014): 18. Program to see the most distant and earliest galaxies with the Hubble.
Geller, M.,&Huchra, J. "Mapping the Universe." Sky&Telescope (August 1991): 134. On their project mapping the location of galaxies in three dimensions.
Hooper, D. "Dark Matter in the Discovery Age." Sky&Telescope (January 2013): 26. On experiments looking for the nature of dark matter.
James, C. R. "The Hubble Deep Field: The Picture Worth a Trillion Stars." Astronomy (November 2015): 44. Detailed history and results, plus the Hubble Ultra-Deep Field.
Kaufmann, G.,&van den Bosch, F. "The Life Cycle of Galaxies." Scientific American (June 2002): 46. On the evolution of galaxies and how the different shapes of galaxies develop.
Knapp, G. "Mining the Heavens: The Sloan Digital Sky Survey." Sky&Telescope (August 1997): 40.