Calculations indicate that the Galaxy's thick disk may be a product of one or more such collisions with other galaxies. Accretion of a satellite galaxy would stir up the orbits of the stars and gas clouds originally in the thin disk and cause them to move higher above and below the mid-plane of the Galaxy. Meanwhile, the Galaxy's stars would add to the fluffed-up mix. If such a collision happened about 10 billion years ago, then any gas in the two galaxies that had not yet formed into stars would have had plenty of time to settle back down into the thin disk. The gas could then have begun forming subsequent generations of population I stars. This timing is also consistent with the typical ages of stars in the thick disk.
The Milky Way has more collisions in store. An example is the Canis Major dwarf galaxy, which has a mass of about 1% of the mass of the Milky Way. Already long tidal tails have been stripped from this galaxy, which have wrapped themselves around the Milky Way three times. Several of the globular clusters found in the Milky Way may also have come from the Canis Major dwarf, which is expected to merge gradually with the Milky Way over about the next billion years.
In about 3 billion years, the Milky Way itself will be swallowed up, since it and the Andromeda galaxy are on a collision course. Our computer models show that after a complex interaction, the two will merge to form a larger, more rounded galaxy ( [link] ).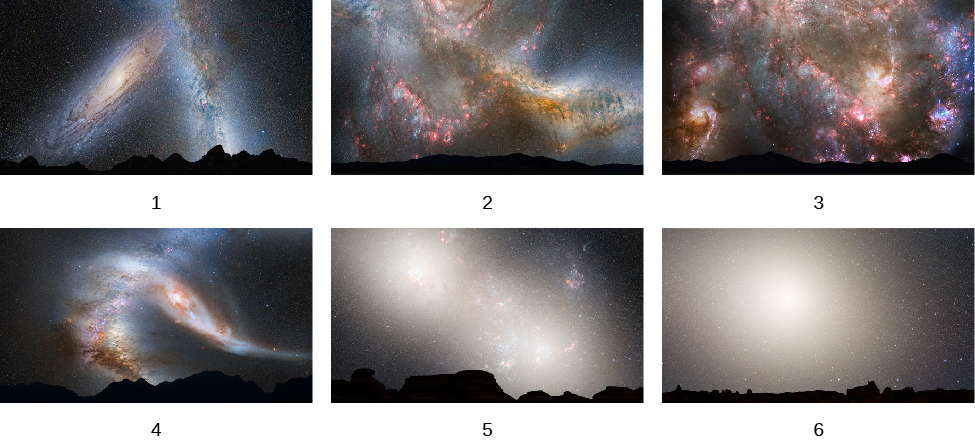 We are thus coming to realize that "environmental influences" (and not just a galaxy's original characteristics) play an important role in determining the properties and development of our Galaxy. In future chapters we will see that collisions and mergers are a major factor in the evolution of many other galaxies as well.
Key concepts and summary
The Galaxy began forming a little more than 13 billion years ago. Models suggest that the stars in the halo and globular clusters formed first, while the Galaxy was spherical. The gas, somewhat enriched in heavy elements by the first generation of stars, then collapsed from a spherical distribution to a rotating disk-shaped distribution. Stars are still forming today from the gas and dust that remain in the disk. Star formation occurs most rapidly in the spiral arms, where the density of interstellar matter is highest. The Galaxy captured (and still is capturing) additional stars and globular clusters from small galaxies that ventured too close to the Milky Way. In 3 to 4 billion years, the Galaxy will begin to collide with the Andromeda galaxy, and after about 7 billion years, the two galaxies will merge to form a giant elliptical galaxy.