Learning objectives
By the end of this section, you will be able to:
Describe how astronomers use spectral classes to characterize stars
Explain the difference between a star and a brown dwarf
Measuring colors is only one way of analyzing starlight. Another way is to use a spectrograph to spread out the light into a spectrum (see the Radiation and Spectra and the Astronomical Instruments chapters). In 1814, the German physicist Joseph Fraunhofer observed that the spectrum of the Sun shows dark lines crossing a continuous band of colors. In the 1860s, English astronomers Sir William Huggins and Lady Margaret Huggins ( [link] ) succeeded in identifying some of the lines in stellar spectra as those of known elements on Earth, showing that the same chemical elements found in the Sun and planets exist in the stars. Since then, astronomers have worked hard to perfect experimental techniques for obtaining and measuring spectra, and they have developed a theoretical understanding of what can be learned from spectra. Today, spectroscopic analysis is one of the cornerstones of astronomical research.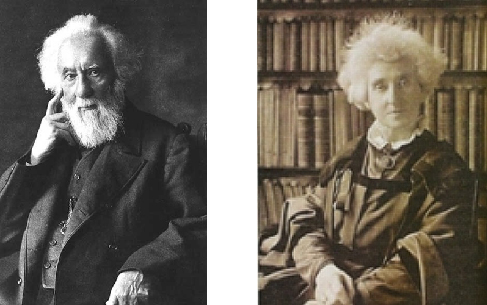 Formation of stellar spectra
When the spectra of different stars were first observed, astronomers found that they were not all identical. Since the dark lines are produced by the chemical elements present in the stars, astronomers first thought that the spectra differ from one another because stars are not all made of the same chemical elements. This hypothesis turned out to be wrong. The primary reason that stellar spectra look different is because the stars have different temperatures . Most stars have nearly the same composition as the Sun, with only a few exceptions.
Hydrogen, for example, is by far the most abundant element in most stars. However, lines of hydrogen are not seen in the spectra of the hottest and the coolest stars. In the atmospheres of the hottest stars, hydrogen atoms are completely ionized. Because the electron and the proton are separated, ionized hydrogen cannot produce absorption lines. (Recall from the Formation of Spectral Lines section, the lines are the result of electrons in orbit around a nucleus changing energy levels.)
In the atmospheres of the coolest stars, hydrogen atoms have their electrons attached and can switch energy levels to produce lines. However, practically all of the hydrogen atoms are in the lowest energy state (unexcited) in these stars and thus can absorb only those photons able to lift an electron from that first energy level to a higher level. Photons with enough energy to do this lie in the ultraviolet part of the electromagnetic spectrum, and there are very few ultraviolet photons in the radiation from a cool star. What this means is that if you observe the spectrum of a very hot or very cool star with a typical telescope on the surface of Earth, the most common element in that star, hydrogen, will show very weak spectral lines or none at all.