Because a square root is only defined when the quantity under the radical is non-negative, we need to determine where The output of a rational function can change signs (change from positive to negative or vice versa) at x -intercepts and at vertical asymptotes. For this equation, the graph could change signs at
To determine the intervals on which the rational expression is positive, we could test some values in the expression or sketch a graph. While both approaches work equally well, for this example we will use a graph as shown in [link] .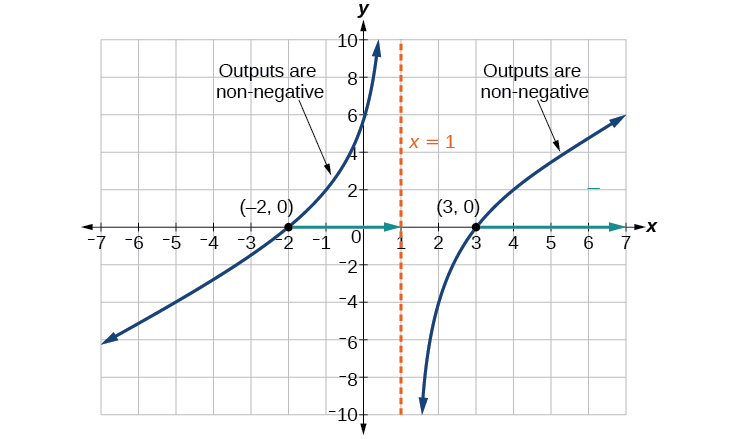 This function has two x -intercepts, both of which exhibit linear behavior near the x -intercepts. There is one vertical asymptote, corresponding to a linear factor; this behavior is similar to the basic reciprocal toolkit function, and there is no horizontal asymptote because the degree of the numerator is larger than the degree of the denominator. There is a y -intercept at
From the y -intercept and x -intercept at we can sketch the left side of the graph. From the behavior at the asymptote, we can sketch the right side of the graph.
From the graph, we can now tell on which intervals the outputs will be non-negative, so that we can be sure that the original function will be defined. has domain or in interval notation,