Using the midpoint formula
When the endpoints of a line segment are known, we can find the point midway between them. This point is known as the midpoint and the formula is known as the midpoint formula . Given the endpoints of a line segment, and the midpoint formula states how to find the coordinates of the midpoint
A graphical view of a midpoint is shown in [link] . Notice that the line segments on either side of the midpoint are congruent.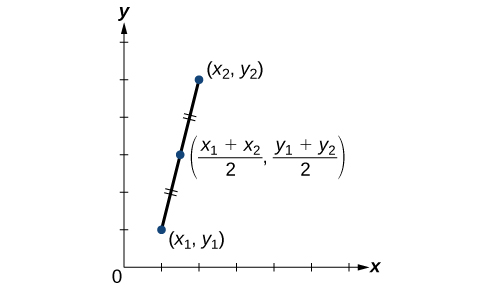 Key concepts
Section exercises
Verbal
Is it possible for a point plotted in the Cartesian coordinate system to not lie in one of the four quadrants? Explain.
Answers may vary. Yes. It is possible for a point to be on the x -axis or on the y -axis and therefore is considered to NOT be in one of the quadrants.
Got questions? Get instant answers now!
Algebraic
For each of the following exercises, find the x -intercept and the y -intercept without graphing. Write the coordinates of each intercept.
Questions & Answers
Receive real-time job alerts and never miss the right job again
Source:  OpenStax, Algebra and trigonometry. OpenStax CNX. Nov 14, 2016 Download for free at https://legacy.cnx.org/content/col11758/1.6
Google Play and the Google Play logo are trademarks of Google Inc.
Notification Switch
Would you like to follow the 'Algebra and trigonometry' conversation and receive update notifications?