Just as young children pretend to be doctors or lawyers, play house, and dress up, adults also engage in anticipatory socialization , the preparation for future life roles. Examples would include a couple who cohabitate before marriage or soon-to-be parents who read infant care books and prepare their home for the new arrival. As part of anticipatory socialization, adults who are financially able begin planning for their retirement, saving money, and looking into future healthcare options. The transition into any new life role, despite the social structure that supports it, can be difficult.
Resocialization
In the process of resocialization , old behaviors that were helpful in a previous role are removed because they are no longer of use. Resocialization is necessary when a person moves to a senior care center, goes to boarding school, or serves time in jail. In the new environment, the old rules no longer apply. The process of resocialization is typically more stressful than normal socialization because people have to unlearn behaviors that have become customary to them.
The most common way resocialization occurs is in a total institution where people are isolated from society and are forced to follow someone else's rules. A ship at sea is a total institution, as are religious convents, prisons, or some cult organizations. They are places cut off from a larger society. The 6.9 million Americans who lived in prisons and penitentiaries at the end of 2012 are also members of this type of institution (U.S. Department of Justice 2012). As another example, every branch of the military is a total institution.
Many individuals are resocialized into an institution through a two-part process. First, members entering an institution must leave behind their old identity through what is known as a degradation ceremony. In a degradation ceremony , new members lose the aspects of their old identity and are given new identities. The process is sometimes gentle. To enter a senior care home, an elderly person often must leave a family home and give up many belongings which were part of his or her long-standing identity. Though caretakers guide the elderly compassionately, the process can still be one of loss. In many cults, this process is also gentle and happens in an environment of support and caring.
In other situations, the degradation ceremony can be more extreme. New prisoners lose freedom, rights (including the right to privacy), and personal belongings. When entering the army, soldiers have their hair cut short. Their old clothes are removed, and they wear matching uniforms. These individuals must give up any markers of their former identity in order to be resocialized into an identity as a "soldier."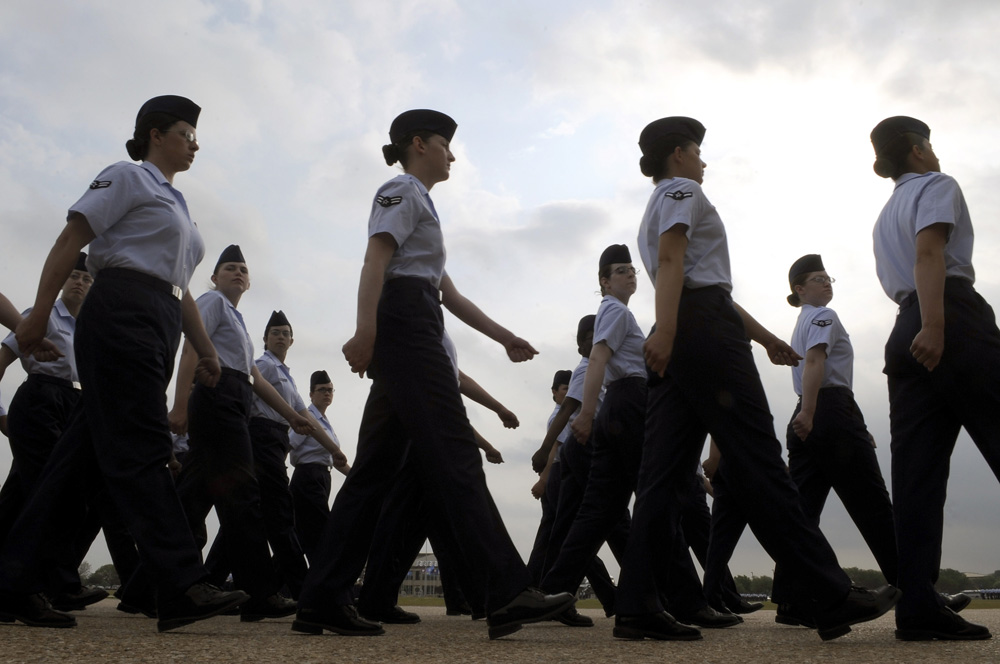 After new members of an institution are stripped of their old identity, they build a new one that matches the new society. In the military, soldiers go through basic training together, where they learn new rules and bond with one another. They follow structured schedules set by their leaders. Soldiers must keep their areas clean for inspection, learn to march in correct formations, and salute when in the presence of superiors.
Learning to deal with life after having lived in a total institution requires yet another process of resocialization. In the U.S. military, soldiers learn discipline and a capacity for hard work. They set aside personal goals to achieve a mission, and they take pride in the accomplishments of their units. Many soldiers who leave the military transition these skills into excellent careers. Others find themselves lost upon leaving, uncertain about the outside world and what to do next. The process of resocialization to civilian life is not a simple one.
Summary
Socialization is a lifelong process that reoccurs as we enter new phases of life, such as adulthood or senior age. Resocialization is a process that removes the socialization we have developed over time and replaces it with newly learned rules and roles. Because it involves removing old habits that have been built up, resocialization can be a stressful and difficult process.
Short answer
Consider a person who is joining a sorority or fraternity, attending college or boarding school, or even a child beginning kindergarten. How is the process the student goes through a form of socialization? What new cultural behaviors must the student adapt to?
Got questions? Get instant answers now!
Further research
Homelessness is an endemic problem among veterans. Many soldiers leave the military or return from war and have difficulty resocializing into civilian life. Learn more about this problem at (External Link) or (External Link)
References
Davidson, Adam. 2014. "It's Official, the Boomerang Kids Won't Leave." New York Times , June 20. Retrieved October 27, 2014 (http://www.nytimes.com/2014/06/22/magazine/its-official-the-boomerang-kids-wont-leave.html?_r=0).
Henig, Robin Marantz. 2010. "What Is It About Twenty-Somethings?" New York Times , August 18. Retrieved December 28, 2011 ( (External Link)&adxnnlx=1325202682-VVzEPjqlYdkfmWonoE3Spg ).
Prince of Wales. 2012a. "Duke of Cambridge, Gap Year." Retrieved January 26, 2012 ( (External Link) ).
Prince of Wales. 2012b. "Prince Harry, Gap Year." Retrieved January 26, 2012 ( (External Link) ).
Setterson, Richard A., Jr. 2002. "Socialization in the Life Course: New Frontiers in Theory and Research." New Frontiers in Socialization, Vol. 7 . Oxford, UK: Elsevier Science Ltd.
UNICEF. 2011. "Percentage of Children Aged 5–14 Engaged in Child Labour." Retrieved December 28, 2011 ( (External Link) ).
UNICEF. 2012. "Percentage of Children Aged 5-14 Engaged in Child Labour." Retrieved Oct. 27th, 2014 ( (External Link)&go.x=0&go.y=0 )
U.S. Department of Justice. 2012. "Corrections Populations in the US, 2012." Retrieved October 27, 2014 (http://www.bjs.gov/content/pub/pdf/cpus12.pdf).