As resources became more plentiful, social classes became more divisive. Those who had more resources could afford better living and developed into a class of nobility. Difference in social standing between men and women increased. As cities expanded, ownership and preservation of resources became a pressing concern.
Feudal
The ninth century gave rise to feudal societies . These societies contained a strict hierarchical system of power based around land ownership and protection. The nobility, known as lords, placed vassals in charge of pieces of land. In return for the resources that the land provided, vassals promised to fight for their lords.
These individual pieces of land, known as fiefdoms, were cultivated by the lower class. In return for maintaining the land, peasants were guaranteed a place to live and protection from outside enemies. Power was handed down through family lines, with peasant families serving lords for generations and generations. Ultimately, the social and economic system of feudalism would fail, replaced by capitalism and the technological advances of the industrial era.
Industrial society
In the 18th century, Europe experienced a dramatic rise in technological invention, ushering in an era known as the Industrial Revolution. What made this period remarkable was the number of new inventions that influenced people's daily lives. Within a generation, tasks that had until this point required months of labor became achievable in a matter of days. Before the Industrial Revolution, work was largely person- or animal-based, relying on human workers or horses to power mills and drive pumps. In 1782, James Watt and Matthew Boulton created a steam engine that could do the work of 12 horses by itself.
Steam power began appearing everywhere. Instead of paying artisans to painstakingly spin wool and weave it into cloth, people turned to textile mills that produced fabric quickly at a better price, and often with better quality. Rather than planting and harvesting fields by hand, farmers were able to purchase mechanical seeders and threshing machines that caused agricultural productivity to soar. Products such as paper and glass became available to the average person, and the quality and accessibility of education and health care soared. Gas lights allowed increased visibility in the dark, and towns and cities developed a nightlife.
One of the results of increased productivity and technology was the rise of urban centers. Workers flocked to factories for jobs, and the populations of cities became increasingly diverse. The new generation became less preoccupied with maintaining family land and traditions, and more focused on acquiring wealth and achieving upward mobility for themselves and their family. People wanted their children and their children's children to continue to rise to the top, and as capitalism increased, so did social mobility.
It was during the 18th and 19th centuries of the Industrial Revolution that sociology was born. Life was changing quickly and the long-established traditions of the agricultural eras did not apply to life in the larger cities. Masses of people were moving to new environments and often found themselves faced with horrendous conditions of filth, overcrowding, and poverty. Social scientists emerged to study the relationship between the individual members of society and society as a whole.
It was during this time that power moved from the hands of the aristocracy and "old money" to business-savvy newcomers who amassed fortunes in their lifetimes. Families such as the Rockefellers and the Vanderbilts became the new power players, using their influence in business to control aspects of government as well. Eventually, concerns over the exploitation of workers led to the formation of labor unions and laws that set mandatory conditions for employees. Although the introduction of new technology at the end of the 19th century ended the industrial age, much of our social structure and social ideas—like family, childhood, and time standardization—have a basis in industrial society.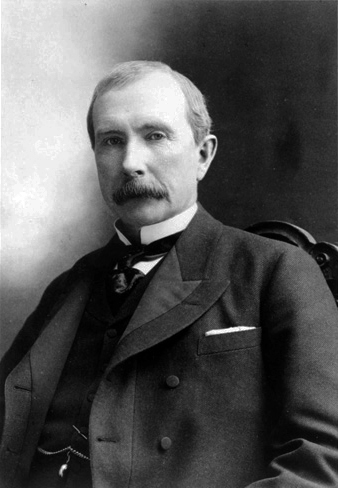 Postindustrial society
Information societies , sometimes known as postindustrial or digital societies, are a recent development. Unlike industrial societies that are rooted in the production of material goods, information societies are based on the production of information and services.
Digital technology is the steam engine of information societies, and computer moguls such as Steve Jobs and Bill Gates are its John D. Rockefellers and Cornelius Vanderbilts. Since the economy of information societies is driven by knowledge and not material goods, power lies with those in charge of storing and distributing information. Members of a postindustrial society are likely to be employed as sellers of services—software programmers or business consultants, for example—instead of producers of goods. Social classes are divided by access to education, since without technical skills, people in an information society lack the means for success.
Summary
Societies are classified according to their development and use of technology. For most of human history, people lived in preindustrial societies characterized by limited technology and low production of goods. After the Industrial Revolution, many societies based their economies around mechanized labor, leading to greater profits and a trend toward greater social mobility. At the turn of the new millennium, a new type of society emerged. This postindustrial, or information, society is built on digital technology and non-material goods.
Short answer
Further research
The Maasai are a modern pastoral society with an economy largely structured around herds of cattle. Read more about the Maasai people and see pictures of their daily lives here: (External Link)
References
Immigration and Refugee Board of Canada. 2005. "Israel: Treatment of Bedouin, Including Incidents of Harassment, Discrimination or Attacks; State Protection (January 2003–July 2005)", Refworld, July 29. Retrieved February 10, 2012 ( (External Link) ).
Kjeilen, Tore. "Bedouin." Looklex.com. Retrieved February 17, 2012 ( (External Link) ).