Understand the historical and current trends of poverty among elderly populations
Recognize ageist thinking and ageist attitudes in individuals and in institutions
Learn about elderly individuals' risks of being mistreated and abused
Aging comes with many challenges. The loss of independence is one potential part of the process, as are diminished physical ability and age discrimination. The term senescence refers to the aging process, including biological, emotional, intellectual, social, and spiritual changes. This section discusses some of the challenges we encounter during this process.
As already observed, many older adults remain highly self-sufficient. Others require more care. Because the elderly typically no longer hold jobs, finances can be a challenge. And due to cultural misconceptions, older people can be targets of ridicule and stereotypes. The elderly face many challenges in later life, but they do not have to enter old age without dignity.
Poverty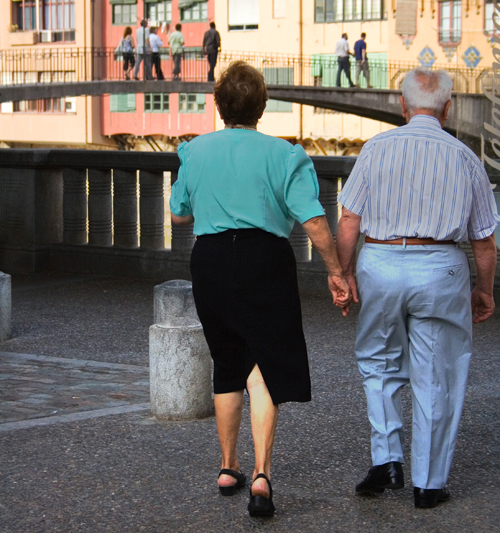 For many people in the United States, growing older once meant living with less income. In 1960, almost 35 percent of the elderly existed on poverty-level incomes. A generation ago, the nation's oldest populations had the highest risk of living in poverty.
At the start of the 21st century, the older population was putting an end to that trend. Among people over 65, the poverty rate fell from 30 percent in 1967 to 9.7 percent in 2008, well below the national average of 13.2 percent (U.S. Census Bureau 2009). However, with the subsequent recession, which severely reduced the retirement savings of many while taxing public support systems, how are the elderly affected? According to the Kaiser Commission on Medicaid and the Uninsured, the national poverty rate among the elderly had risen to 14 percent by 2010 (Urban Institute and Kaiser Commission 2010).
Before the recession hit, what had changed to cause a reduction in poverty among the elderly? What social patterns contributed to the shift? For several decades, a greater number of women joined the workforce. More married couples earned double incomes during their working years and saved more money for their retirement. Private employers and governments began offering better retirement programs. By 1990, senior citizens reported earning 36 percent more income on average than they did in 1980; that was five times the rate of increase for people under age 35 (U.S. Census Bureau 2009).
In addition, many people were gaining access to better health care. New trends encouraged people to live more healthful lifestyles, placing an emphasis on exercise and nutrition. There was also greater access to information about the health risks of behaviors such as cigarette smoking, alcohol consumption, and drug use. Because they were healthier, many older people continue to work past the typical retirement age, providing more opportunity to save for retirement. Will these patterns return once the recession ends? Sociologists will be watching to see. In the meantime, they are realizing the immediate impact of the recession on elderly poverty.