One study on the actor-observer bias investigated reasons male participants gave for why they liked their girlfriend (Nisbett et al., 1973). When asked why participants liked their own girlfriend, participants focused on internal, dispositional qualities of their girlfriends (for example, her pleasant personality). The participants' explanations rarely included causes internal to themselves, such as dispositional traits (for example, "I need companionship."). In contrast, when speculating why a male friend likes his girlfriend, participants were equally likely to give dispositional and external explanations. This supports the idea that actors tend to provide few internal explanations but many situational explanations for their own behavior. In contrast, observers tend to provide more dispositional explanations for a friend's behavior ( [link] ).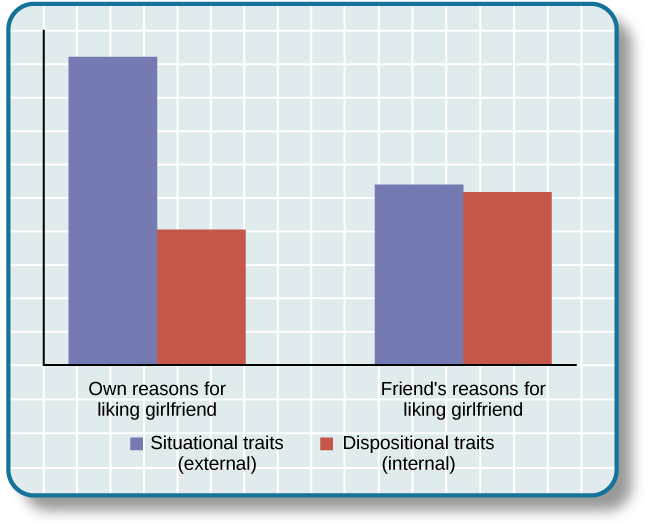 Self-serving bias
Following an outcome, self-serving bias are those attributions that enable us to see ourselves in favorable light (for example, making internal attributions for success and external attributions for failures). When you do well at a task, for example acing an exam, it is in your best interest to make a dispositional attribution for your behavior ("I'm smart,") instead of a situational one ("The exam was easy,"). The tendency of an individual to take credit by making dispositional or internal attributions for positive outcomes but situational or external attributions for negative outcomes is known as the self-serving bias (Miller&Ross, 1975). This bias serves to protect self-esteem. You can imagine that if people always made situational attributions for their behavior, they would never be able to take credit and feel good about their accomplishments.
We can understand self-serving bias by digging more deeply into attribution , a belief about the cause of a result. One model of attribution proposes three main dimensions: locus of control (internal versus external), stability (stable versus unstable), and controllability (controllable versus uncontrollable). In this context, stability refers the extent to which the circumstances that result in a given outcome are changeable. The circumstances are considered stable if they are unlikely to change. Controllability refers to the extent to which the circumstances that are associated with a given outcome can be controlled. Obviously, those things that we have the power to control would be labeled controllable (Weiner, 1979).
Consider the example of how we explain our favorite sports team's wins. Research shows that we make internal, stable, and controllable attributions for our team's victory ( [link] ) (Grove, Hanrahan,&McInman, 1991). For example, we might tell ourselves that our team is talented (internal), consistently works hard (stable), and uses effective strategies (controllable). In contrast, we are more likely to make external, unstable, and uncontrollable attributions when our favorite team loses. For example, we might tell ourselves that the other team has more experienced players or that the referees were unfair (external), the other team played at home (unstable), and the cold weather affected our team's performance (uncontrollable).