Training
Training is an important element of success and performance in many jobs. Most jobs begin with an orientation period during which the new employee is provided information regarding the company history, policies, and administrative protocols such as time tracking, benefits, and reporting requirements. An important goal of orientation training is to educate the new employee about the organizational culture, the values, visions, hierarchies, norms and ways the company's employees interact—essentially how the organization is run, how it operates, and how it makes decisions. There will also be training that is specific to the job the individual was hired to do, or training during the individual's period of employment that teaches aspects of new duties, or how to use new physical or software tools. Much of these kinds of training will be formalized for the employee; for example, orientation training is often accomplished using software presentations, group presentations by members of the human resources department or with people in the new hire's department ( [link] ).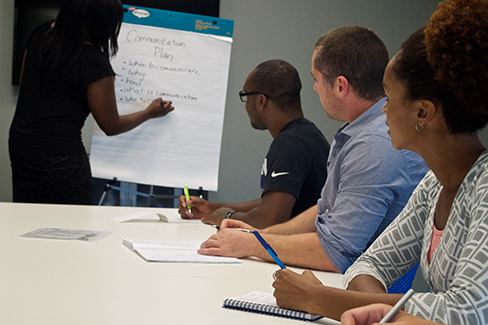 Mentoring is a form of informal training in which an experienced employee guides the work of a new employee. In some situations, mentors will be formally assigned to a new employee, while in others a mentoring relationship may develop informally.
Mentoring effects on the mentor and the employee being mentored, the protégé, have been studied in recent years. In a review of mentoring studies, Eby, Allen, Evans, Ng,&DuBois (2008) found significant but small effects of mentoring on performance (i.e., behavioral outcomes), motivation and satisfaction, and actual career outcomes. In a more detailed review, Allen, Eby, Poteet, Lentz,&Lima (2004) found that mentoring positively affected a protégé's compensation and number of promotions compared with non-mentored employees. In addition, protégés were more satisfied with their careers and had greater job satisfaction. All of the effects were small but significant. Eby, Durley, Evans,&Ragins (2006) examined mentoring effects on the mentor and found that mentoring was associated with greater job satisfaction and organizational commitment. Gentry, Weber,&Sadri (2008) found that mentoring was positively related with performance ratings by supervisors. Allen, Lentz,&Day (2006) found in a comparison of mentors and non-mentors that mentoring led to greater reported salaries and promotions.
Mentoring is recognized to be particularly important to the career success of women (McKeen&Bujaki, 2007) by creating connections to informal networks, adopting a style of interaction that male managers are comfortable with, and with overcoming discrimination in job promotions.
Gender combinations in mentoring relationships are also an area of active study. Ragins&Cotton (1999) studied the effects of gender on the outcomes of mentoring relationships and found that protégés with a history of male mentors had significantly higher compensation especially for male protégés. The study found that female mentor–male protégé relationships were considerably rarer than the other gender combinations.