Theories about motivation
William James (1842–1910) was an important contributor to early research into motivation, and he is often referred to as the father of psychology in the United States. James theorized that behavior was driven by a number of instincts, which aid survival ( [link] ). From a biological perspective, an instinct is a species-specific pattern of behavior that is not learned. There was, however, considerable controversy among James and his contemporaries over the exact definition of instinct. James proposed several dozen special human instincts, but many of his contemporaries had their own lists that differed. A mother's protection of her baby, the urge to lick sugar, and hunting prey were among the human behaviors proposed as true instincts during James's era. This view—that human behavior is driven by instincts—received a fair amount of criticism because of the undeniable role of learning in shaping all sorts of human behavior. In fact, as early as the 1900s, some instinctive behaviors were experimentally demonstrated to result from associative learning (recall when you learned about Watson's conditioning of fear response in "Little Albert") (Faris, 1921).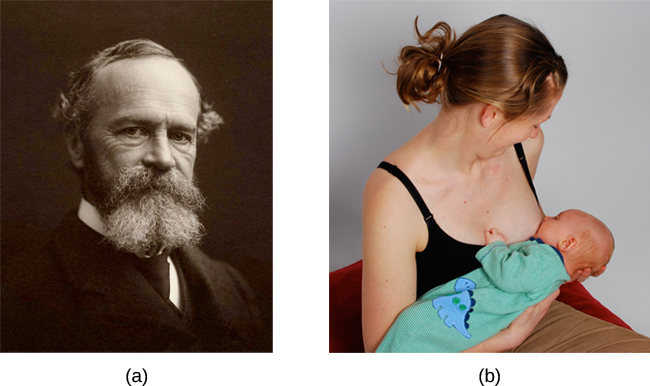 Another early theory of motivation proposed that the maintenance of homeostasis is particularly important in directing behavior. You may recall from your earlier reading that homeostasis is the tendency to maintain a balance, or optimal level, within a biological system. In a body system, a control center (which is often part of the brain) receives input from receptors (which are often complexes of neurons). The control center directs effectors (which may be other neurons) to correct any imbalance detected by the control center.
According to the drive theory of motivation, deviations from homeostasis create physiological needs. These needs result in psychological drive states that direct behavior to meet the need and, ultimately, bring the system back to homeostasis. For example, if it's been a while since you ate, your blood sugar levels will drop below normal. This low blood sugar will induce a physiological need and a corresponding drive state (i.e., hunger) that will direct you to seek out and consume food ( [link] ). Eating will eliminate the hunger, and, ultimately, your blood sugar levels will return to normal. Interestingly, drive theory also emphasizes the role that habits play in the type of behavioral response in which we engage. A habit is a pattern of behavior in which we regularly engage. Once we have engaged in a behavior that successfully reduces a drive, we are more likely to engage in that behavior whenever faced with that drive in the future (Graham&Weiner, 1996).