Our world is three-dimensional, so it makes sense that our mental representation of the world has three-dimensional properties. We use a variety of cues in a visual scene to establish our sense of depth. Some of these are binocular cues , which means that they rely on the use of both eyes. One example of a binocular depth cue is binocular disparity , the slightly different view of the world that each of our eyes receives. To experience this slightly different view, do this simple exercise: extend your arm fully and extend one of your fingers and focus on that finger. Now, close your left eye without moving your head, then open your left eye and close your right eye without moving your head. You will notice that your finger seems to shift as you alternate between the two eyes because of the slightly different view each eye has of your finger.
A 3-D movie works on the same principle: the special glasses you wear allow the two slightly different images projected onto the screen to be seen separately by your left and your right eye. As your brain processes these images, you have the illusion that the leaping animal or running person is coming right toward you.
Although we rely on binocular cues to experience depth in our 3-D world, we can also perceive depth in 2-D arrays. Think about all the paintings and photographs you have seen. Generally, you pick up on depth in these images even though the visual stimulus is 2-D. When we do this, we are relying on a number of monocular cues , or cues that require only one eye. If you think you can't see depth with one eye, note that you don't bump into things when using only one eye while walking—and, in fact, we have more monocular cues than binocular cues.
An example of a monocular cue would be what is known as linear perspective. Linear perspective refers to the fact that we perceive depth when we see two parallel lines that seem to converge in an image ( [link] ). Some other monocular depth cues are interposition, the partial overlap of objects, and the relative size and closeness of images to the horizon.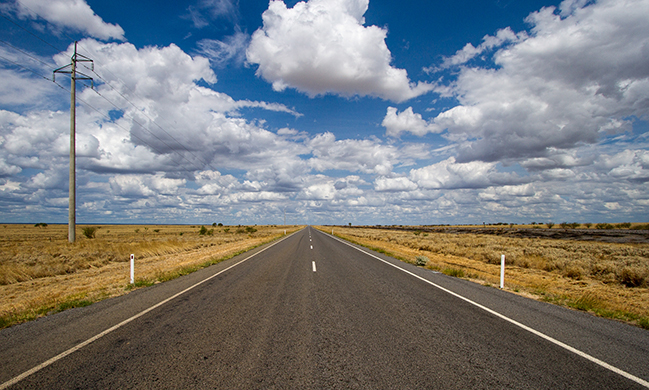 Stereoblindness
Bruce Bridgeman was born with an extreme case of lazy eye that resulted in him being stereoblind, or unable to respond to binocular cues of depth. He relied heavily on monocular depth cues, but he never had a true appreciation of the 3-D nature of the world around him. This all changed one night in 2012 while Bruce was seeing a movie with his wife.
The movie the couple was going to see was shot in 3-D, and even though he thought it was a waste of money, Bruce paid for the 3-D glasses when he purchased his ticket. As soon as the film began, Bruce put on the glasses and experienced something completely new. For the first time in his life he appreciated the true depth of the world around him. Remarkably, his ability to perceive depth persisted outside of the movie theater.
There are cells in the nervous system that respond to binocular depth cues. Normally, these cells require activation during early development in order to persist, so experts familiar with Bruce's case (and others like his) assume that at some point in his development, Bruce must have experienced at least a fleeting moment of binocular vision. It was enough to ensure the survival of the cells in the visual system tuned to binocular cues. The mystery now is why it took Bruce nearly 70 years to have these cells activated (Peck, 2012).
Summary
Light waves cross the cornea and enter the eye at the pupil. The eye's lens focuses this light so that the image is focused on a region of the retina known as the fovea. The fovea contains cones that possess high levels of visual acuity and operate best in bright light conditions. Rods are located throughout the retina and operate best under dim light conditions. Visual information leaves the eye via the optic nerve. Information from each visual field is sent to the opposite side of the brain at the optic chiasm. Visual information then moves through a number of brain sites before reaching the occipital lobe, where it is processed.
Two theories explain color perception. The trichromatic theory asserts that three distinct cone groups are tuned to slightly different wavelengths of light, and it is the combination of activity across these cone types that results in our perception of all the colors we see. The opponent-process theory of color vision asserts that color is processed in opponent pairs and accounts for the interesting phenomenon of a negative afterimage. We perceive depth through a combination of monocular and binocular depth cues.
Personal application question