Obviously, Jensen's interpretation of his own data caused an intense response in a nation that continued to grapple with the effects of racism (Fox, 2012). However, Jensen's ideas were not solitary or unique; rather, they represented one of many examples of psychologists asserting racial differences in IQ and cognitive ability. In fact, Rushton and Jensen (2005) reviewed three decades worth of research on the relationship between race and cognitive ability. Jensen's belief in the inherited nature of intelligence and the validity of the IQ test to be the truest measure of intelligence are at the core of his conclusions. If, however, you believe that intelligence is more than Levels I and II, or that IQ tests do not control for socioeconomic and cultural differences among people, then perhaps you can dismiss Jensen's conclusions as a single window that looks out on the complicated and varied landscape of human intelligence.
In a related story, parents of African American students filed a case against the State of California in 1979, because they believed that the testing method used to identify students with learning disabilities was culturally unfair as the tests were normed and standardized using white children ( Larry P. v. Riles ). The testing method used by the state disproportionately identified African American children as mentally retarded. This resulted in many students being incorrectly classified as "mentally retarded." According to a summary of the case, Larry P. v. Riles :
In violation of Title VI of the Civil Rights Act of 1964, the Rehabilitation Act of 1973, and the Education for All Handicapped Children Act of 1975, defendants have utilized standardized intelligence tests that are racially and culturally biased, have a discriminatory impact against black children, and have not been validated for the purpose of essentially permanent placements of black children into educationally dead-end, isolated, and stigmatizing classes for the so-called educable mentally retarded. Further, these federal laws have been violated by defendants' general use of placement mechanisms that, taken together, have not been validated and result in a large over-representation of black children in the special E.M.R. classes. ( Larry P. v. Riles , par. 6)
Once again, the limitations of intelligence testing were revealed.
What are learning disabilities?
Learning disabilities are cognitive disorders that affect different areas of cognition, particularly language or reading. It should be pointed out that learning disabilities are not the same thing as intellectual disabilities. Learning disabilities are considered specific neurological impairments rather than global intellectual or developmental disabilities. A person with a language disability has difficulty understanding or using spoken language, whereas someone with a reading disability, such as dyslexia, has difficulty processing what he or she is reading.
Often, learning disabilities are not recognized until a child reaches school age. One confounding aspect of learning disabilities is that they often affect children with average to above-average intelligence. At the same time, learning disabilities tend to exhibit comorbidity with other disorders, like attention-deficit hyperactivity disorder (ADHD). Anywhere between 30–70% of individuals with diagnosed cases of ADHD also have some sort of learning disability (Riccio, Gonzales,&Hynd, 1994). Let's take a look at two examples of common learning disabilities: dysgraphia and dyslexia.
Dysgraphia
Children with dysgraphia have a learning disability that results in a struggle to write legibly. The physical task of writing with a pen and paper is extremely challenging for the person. These children often have extreme difficulty putting their thoughts down on paper (Smits-Engelsman&Van Galen, 1997). This difficulty is inconsistent with a person's IQ. That is, based on the child's IQ and/or abilities in other areas, a child with dysgraphia should be able to write, but can't. Children with dysgraphia may also have problems with spatial abilities.
Students with dysgraphia need academic accommodations to help them succeed in school. These accommodations can provide students with alternative assessment opportunities to demonstrate what they know (Barton, 2003). For example, a student with dysgraphia might be permitted to take an oral exam rather than a traditional paper-and-pencil test. Treatment is usually provided by an occupational therapist, although there is some question as to how effective such treatment is (Zwicker, 2005).
Dyslexia
Dyslexia is the most common learning disability in children. An individual with dyslexia exhibits an inability to correctly process letters. The neurological mechanism for sound processing does not work properly in someone with dyslexia. As a result, dyslexic children may not understand sound-letter correspondence. A child with dyslexia may mix up letters within words and sentences—letter reversals, such as those shown in [link] , are a hallmark of this learning disability—or skip whole words while reading. A dyslexic child may have difficulty spelling words correctly while writing. Because of the disordered way that the brain processes letters and sound, learning to read is a frustrating experience. Some dyslexic individuals cope by memorizing the shapes of most words, but they never actually learn to read (Berninger, 2008).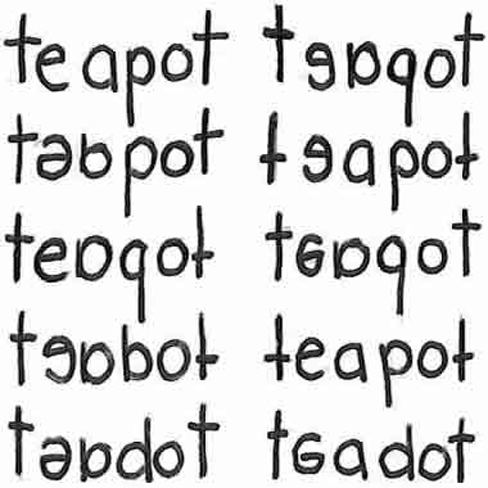 Summary
Genetics and environment affect intelligence and the challenges of certain learning disabilities. The intelligence levels of all individuals seem to benefit from rich stimulation in their early environments. Highly intelligent individuals, however, may have a built-in resiliency that allows them to overcome difficult obstacles in their upbringing. Learning disabilities can cause major challenges for children who are learning to read and write. Unlike developmental disabilities, learning disabilities are strictly neurological in nature and are not related to intelligence levels. Students with dyslexia, for example, may have extreme difficulty learning to read, but their intelligence levels are typically average or above average.
Personal application question