Now let's take a look at the three errors of distortion: misattribution, suggestibility, and bias. Misattribution happens when you confuse the source of your information. Let's say Alejandro was dating Lucia and they saw the first Hobbit movie together. Then they broke up and Alejandro saw the second Hobbit movie with someone else. Later that year, Alejandro and Lucia get back together. One day, they are discussing how the Hobbit books and movies are different and Alejandro says to Lucia, "I loved watching the second movie with you and seeing you jump out of your seat during that super scary part." When Lucia responded with a puzzled and then angry look, Alejandro realized he'd committed the error of misattribution.
What if someone is a victim of rape shortly after watching a television program? Is it possible that the victim could actually blame the rape on the person she saw on television because of misattribution? This is exactly what happened to Donald Thomson.
Australian eyewitness expert Donald Thomson appeared on a live TV discussion about the unreliability of eyewitness memory. He was later arrested, placed in a lineup and identified by a victim as the man who had raped her. The police charged Thomson although the rape had occurred at the time he was on TV. They dismissed his alibi that he was in plain view of a TV audience and in the company of the other discussants, including an assistant commissioner of police. . . . Eventually, the investigators discovered that the rapist had attacked the woman as she was watching TV—the very program on which Thomson had appeared. Authorities eventually cleared Thomson. The woman had confused the rapist's face with the face that she had seen on TV. (Baddeley, 2004, p. 133)
The second distortion error is suggestibility. Suggestibility is similar to misattribution, since it also involves false memories, but it's different. With misattribution you create the false memory entirely on your own, which is what the victim did in the Donald Thomson case above. With suggestibility, it comes from someone else, such as a therapist or police interviewer asking leading questions of a witness during an interview.
Memories can also be affected by bias , which is the final distortion error. Schacter (2001) says that your feelings and view of the world can actually distort your memory of past events. There are several types of bias:
Stereotypical bias involves racial and gender biases. For example, when Asian American and European American research participants were presented with a list of names, they more frequently incorrectly remembered typical African American names such as Jamal and Tyrone to be associated with the occupation basketball player, and they more frequently incorrectly remembered typical White names such as Greg and Howard to be associated with the occupation of politician (Payne, Jacoby,&Lambert, 2004).
Egocentric bias involves enhancing our memories of the past (Payne et al., 2004). Did you really score the winning goal in that big soccer match, or did you just assist?
Hindsight bias happens when we think an outcome was inevitable after the fact. This is the "I knew it all along" phenomenon. The reconstructive nature of memory contributes to hindsight bias (Carli, 1999). We remember untrue events that seem to confirm that we knew the outcome all along.
Have you ever had a song play over and over in your head? How about a memory of a traumatic event, something you really do not want to think about? When you keep remembering something, to the point where you can't "get it out of your head" and it interferes with your ability to concentrate on other things, it is called persistence . It's Schacter's seventh and last memory error. It's actually a failure of our memory system because we involuntarily recall unwanted memories, particularly unpleasant ones ( [link] ). For instance, you witness a horrific car accident on the way to work one morning, and you can't concentrate on work because you keep remembering the scene.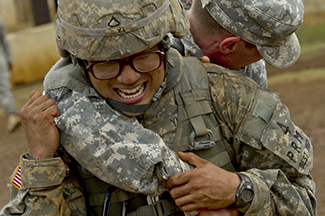 Interference
Sometimes information is stored in our memory, but for some reason it is inaccessible. This is known as interference, and there are two types: proactive interference and retroactive interference ( [link] ). Have you ever gotten a new phone number or moved to a new address, but right after you tell people the old (and wrong) phone number or address? When the new year starts, do you find you accidentally write the previous year? These are examples of proactive interference : when old information hinders the recall of newly learned information. Retroactive interference happens when information learned more recently hinders the recall of older information. For example, this week you are studying about Freud's Psychoanalytic Theory. Next week you study the humanistic perspective of Maslow and Rogers. Thereafter, you have trouble remembering Freud's Psychosexual Stages of Development because you can only remember Maslow's Hierarchy of Needs.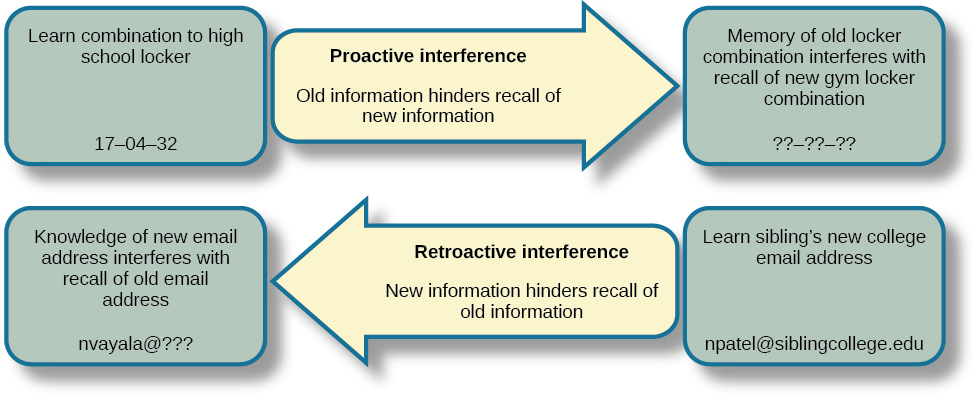 Summary
All of us at times have felt dismayed, frustrated, and even embarrassed when our memories have failed us. Our memory is flexible and prone to many errors, which is why eyewitness testimony has been found to be largely unreliable. There are several reasons why forgetting occurs. In cases of brain trauma or disease, forgetting may be due to amnesia. Another reason we forget is due to encoding failure. We can't remember something if we never stored it in our memory in the first place. Schacter presents seven memory errors that also contribute to forgetting. Sometimes, information is actually stored in our memory, but we cannot access it due to interference. Proactive interference happens when old information hinders the recall of newly learned information. Retroactive interference happens when information learned more recently hinders the recall of older information.
Personal application questions
Jurors place a lot of weight on eyewitness testimony. Imagine you are an attorney representing a defendant who is accused of robbing a convenience store. Several eyewitnesses have been called to testify against your client. What would you tell the jurors about the reliability of eyewitness testimony?
Got questions? Get instant answers now!