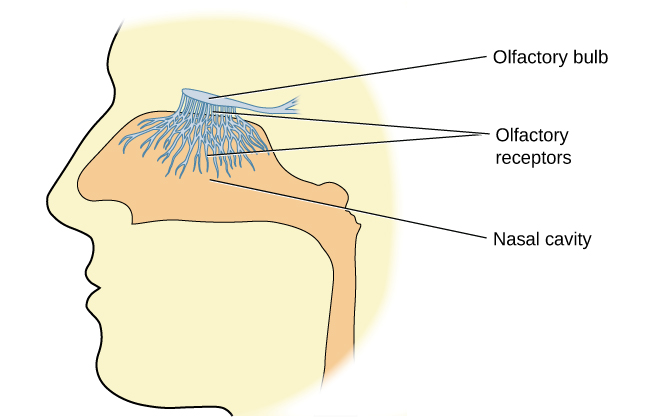 There is tremendous variation in the sensitivity of the olfactory systems of different species. We often think of dogs as having far superior olfactory systems than our own, and indeed, dogs can do some remarkable things with their noses. There is some evidence to suggest that dogs can "smell" dangerous drops in blood glucose levels as well as cancerous tumors (Wells, 2010). Dogs' extraordinary olfactory abilities may be due to the increased number of functional genes for olfactory receptors (between 800 and 1200), compared to the fewer than 400 observed in humans and other primates (Niimura&Nei, 2007).
Many species respond to chemical messages, known as pheromones , sent by another individual (Wysocki&Preti, 2004). Pheromonal communication often involves providing information about the reproductive status of a potential mate. So, for example, when a female rat is ready to mate, she secretes pheromonal signals that draw attention from nearby male rats. Pheromonal activation is actually an important component in eliciting sexual behavior in the male rat (Furlow, 1996, 2012; Purvis&Haynes, 1972; Sachs, 1997). There has also been a good deal of research (and controversy) about pheromones in humans (Comfort, 1971; Russell, 1976; Wolfgang-Kimball, 1992; Weller, 1998).
Touch, thermoception, and nociception
A number of receptors are distributed throughout the skin to respond to various touch-related stimuli ( [link] ). These receptors include Meissner's corpuscles, Pacinian corpuscles, Merkel's disks, and Ruffini corpuscles. Meissner's corpuscles respond to pressure and lower frequency vibrations, and Pacinian corpuscles detect transient pressure and higher frequency vibrations. Merkel's disks respond to light pressure, while Ruffini corpuscles detect stretch (Abraira&Ginty, 2013).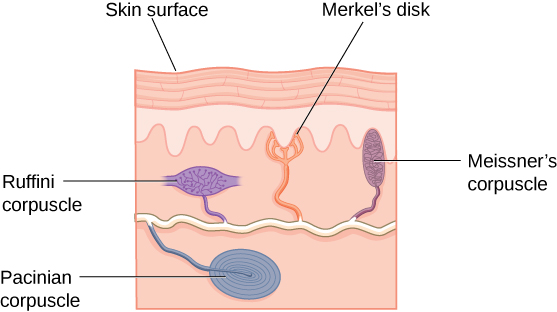 In addition to the receptors located in the skin, there are also a number of free nerve endings that serve sensory functions. These nerve endings respond to a variety of different types of touch-related stimuli and serve as sensory receptors for both thermoception (temperature perception) and nociception (a signal indicating potential harm and maybe pain) (Garland, 2012; Petho&Reeh, 2012; Spray, 1986). Sensory information collected from the receptors and free nerve endings travels up the spinal cord and is transmitted to regions of the medulla, thalamus, and ultimately to somatosensory cortex, which is located in the postcentral gyrus of the parietal lobe.
Pain perception
Pain is an unpleasant experience that involves both physical and psychological components. Feeling pain is quite adaptive because it makes us aware of an injury, and it motivates us to remove ourselves from the cause of that injury. In addition, pain also makes us less likely to suffer additional injury because we will be gentler with our injured body parts.