Other areas of the forebrain
Other areas of the forebrain , located beneath the cerebral cortex, include the thalamus and the limbic system. The thalamus is a sensory relay for the brain. All of our senses, with the exception of smell, are routed through the thalamus before being directed to other areas of the brain for processing ( [link] ).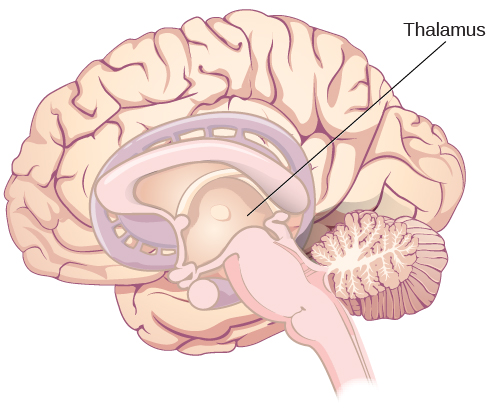 The limbic system is involved in processing both emotion and memory. Interestingly, the sense of smell projects directly to the limbic system; therefore, not surprisingly, smell can evoke emotional responses in ways that other sensory modalities cannot. The limbic system is made up of a number of different structures, but three of the most important are the hippocampus, the amygdala, and the hypothalamus ( [link] ). The hippocampus is an essential structure for learning and memory. The amygdala is involved in our experience of emotion and in tying emotional meaning to our memories. The hypothalamus regulates a number of homeostatic processes, including the regulation of body temperature, appetite, and blood pressure. The hypothalamus also serves as an interface between the nervous system and the endocrine system and in the regulation of sexual motivation and behavior.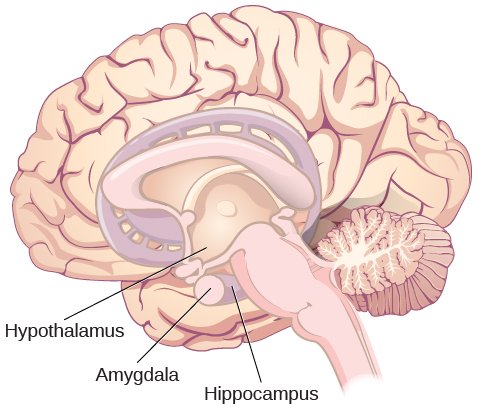 The case of henry molaison (h.m.)
In 1953, Henry Gustav Molaison (H. M.) was a 27-year-old man who experienced severe seizures. In an attempt to control his seizures, H. M. underwent brain surgery to remove his hippocampus and amygdala. Following the surgery, H.M's seizures became much less severe, but he also suffered some unexpected—and devastating—consequences of the surgery: he lost his ability to form many types of new memories. For example, he was unable to learn new facts, such as who was president of the United States. He was able to learn new skills, but afterward he had no recollection of learning them. For example, while he might learn to use a computer, he would have no conscious memory of ever having used one. He could not remember new faces, and he was unable to remember events, even immediately after they occurred. Researchers were fascinated by his experience, and he is considered one of the most studied cases in medical and psychological history (Hardt, Einarsson,&Nader, 2010; Squire, 2009). Indeed, his case has provided tremendous insight into the role that the hippocampus plays in the consolidation of new learning into explicit memory.
Clive Wearing, an accomplished musician, lost the ability to form new memories when his hippocampus was damaged through illness. Check out the first few minutes of this documentary video for an introduction to this man and his condition.
Midbrain and hindbrain structures
The midbrain is comprised of structures located deep within the brain, between the forebrain and the hindbrain. The reticular formation is centered in the midbrain, but it actually extends up into the forebrain and down into the hindbrain. The reticular formation is important in regulating the sleep/wake cycle, arousal, alertness, and motor activity.