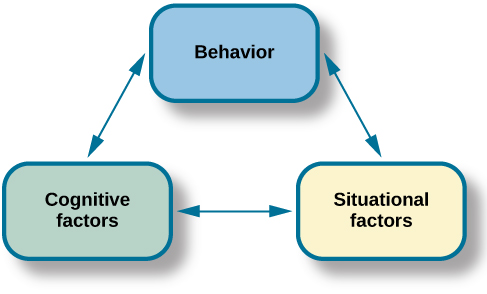 Consider, for example, that you're at a festival and one of the attractions is bungee jumping from a bridge. Do you do it? In this example, the behavior is bungee jumping. Cognitive factors that might influence this behavior include your beliefs and values, and your past experiences with similar behaviors. Finally, context refers to the reward structure for the behavior. According to reciprocal determinism, all of these factors are in play.
Observational learning
Bandura's key contribution to learning theory was the idea that much learning is vicarious. We learn by observing someone else's behavior and its consequences, which Bandura called observational learning. He felt that this type of learning also plays a part in the development of our personality. Just as we learn individual behaviors, we learn new behavior patterns when we see them performed by other people or models. Drawing on the behaviorists' ideas about reinforcement, Bandura suggested that whether we choose to imitate a model's behavior depends on whether we see the model reinforced or punished. Through observational learning, we come to learn what behaviors are acceptable and rewarded in our culture, and we also learn to inhibit deviant or socially unacceptable behaviors by seeing what behaviors are punished.
We can see the principles of reciprocal determinism at work in observational learning. For example, personal factors determine which behaviors in the environment a person chooses to imitate, and those environmental events in turn are processed cognitively according to other personal factors.
Self-efficacy
Bandura (1977, 1995) has studied a number of cognitive and personal factors that affect learning and personality development, and most recently has focused on the concept of self-efficacy. Self-efficacy is our level of confidence in our own abilities, developed through our social experiences. Self-efficacy affects how we approach challenges and reach goals. In observational learning, self-efficacy is a cognitive factor that affects which behaviors we choose to imitate as well as our success in performing those behaviors.
People who have high self-efficacy believe that their goals are within reach, have a positive view of challenges seeing them as tasks to be mastered, develop a deep interest in and strong commitment to the activities in which they are involved, and quickly recover from setbacks. Conversely, people with low self-efficacy avoid challenging tasks because they doubt their ability to be successful, tend to focus on failure and negative outcomes, and lose confidence in their abilities if they experience setbacks. Feelings of self-efficacy can be specific to certain situations. For instance, a student might feel confident in her ability in English class but much less so in math class.
Julian rotter and locus of control
Julian Rotter (1966) proposed the concept of locus of control, another cognitive factor that affects learning and personality development. Distinct from self-efficacy, which involves our belief in our own abilities, locus of control refers to our beliefs about the power we have over our lives. In Rotter's view, people possess either an internal or an external locus of control ( [link] ). Those of us with an internal locus of control ("internals") tend to believe that most of our outcomes are the direct result of our efforts. Those of us with an external locus of control ("externals") tend to believe that our outcomes are outside of our control. Externals see their lives as being controlled by other people, luck, or chance. For example, say you didn't spend much time studying for your psychology test and went out to dinner with friends instead. When you receive your test score, you see that you earned a D. If you possess an internal locus of control, you would most likely admit that you failed because you didn't spend enough time studying and decide to study more for the next test. On the other hand, if you possess an external locus of control, you might conclude that the test was too hard and not bother studying for the next test, because you figure you will fail it anyway. Researchers have found that people with an internal locus of control perform better academically, achieve more in their careers, are more independent, are healthier, are better able to cope, and are less depressed than people who have an external locus of control (Benassi, Sweeney,&Durfour, 1988; Lefcourt, 1982; Maltby, Day,&Macaskill, 2007; Whyte, 1977, 1978, 1980).