By the end of this section, you will be able to:
Describe how genetics and environment affect intelligence
Explain the relationship between IQ scores and socioeconomic status
Describe the difference between a learning disability and a developmental disorder
A young girl, born of teenage parents, lives with her grandmother in rural Mississippi. They are poor—in serious poverty—but they do their best to get by with what they have. She learns to read when she is just 3 years old. As she grows older, she longs to live with her mother, who now resides in Wisconsin. She moves there at the age of 6 years. At 9 years of age, she is raped. During the next several years, several different male relatives repeatedly molest her. Her life unravels. She turns to drugs and sex to fill the deep, lonely void inside her. Her mother then sends her to Nashville to live with her father, who imposes strict behavioral expectations upon her, and over time, her wild life settles once again. She begins to experience success in school, and at 19 years old, becomes the youngest and first African-American female news anchor ("Dates and Events," n.d.). The woman—Oprah Winfrey—goes on to become a media giant known for both her intelligence and her empathy.
High intelligence: nature or nurture?
Where does high intelligence come from? Some researchers believe that intelligence is a trait inherited from a person's parents. Scientists who research this topic typically use twin studies to determine the heritability of intelligence. The Minnesota Study of Twins Reared Apart is one of the most well-known twin studies. In this investigation, researchers found that identical twins raised together and identical twins raised apart exhibit a higher correlation between their IQ scores than siblings or fraternal twins raised together (Bouchard, Lykken, McGue, Segal,&Tellegen, 1990). The findings from this study reveal a genetic component to intelligence ( [link] ). At the same time, other psychologists believe that intelligence is shaped by a child's developmental environment. If parents were to provide their children with intellectual stimuli from before they are born, it is likely that they would absorb the benefits of that stimulation, and it would be reflected in intelligence levels.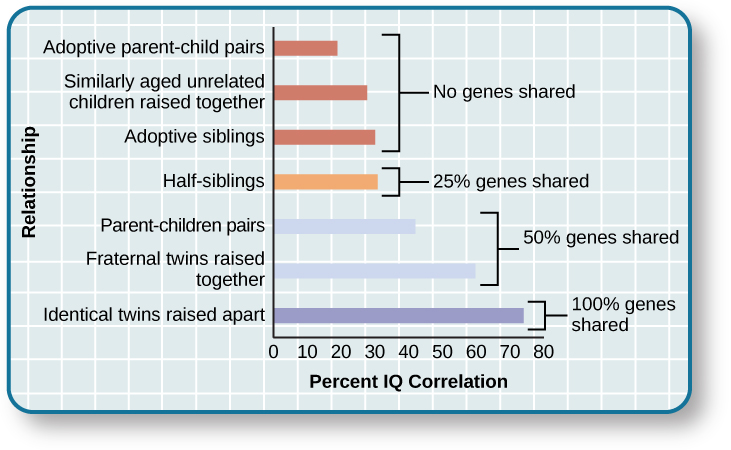 The reality is that aspects of each idea are probably correct. In fact, one study suggests that although genetics seem to be in control of the level of intelligence, the environmental influences provide both stability and change to trigger manifestation of cognitive abilities (Bartels, Rietveld, Van Baal,&Boomsma, 2002). Certainly, there are behaviors that support the development of intelligence, but the genetic component of high intelligence should not be ignored. As with all heritable traits, however, it is not always possible to isolate how and when high intelligence is passed on to the next generation.