Harlow's studies of monkeys were performed before modern ethics guidelines were in place, and today his experiments are widely considered to be unethical and even cruel. Watch this video to see actual footage of Harlow's monkey studies.
Building on the work of Harlow and others, John Bowlby developed the concept of attachment theory. He defined attachment as the affectional bond or tie that an infant forms with the mother (Bowlby, 1969). An infant must form this bond with a primary caregiver in order to have normal social and emotional development. In addition, Bowlby proposed that this attachment bond is very powerful and continues throughout life. He used the concept of secure base to define a healthy attachment between parent and child (1988). A secure base is a parental presence that gives the child a sense of safety as he explores his surroundings. Bowlby said that two things are needed for a healthy attachment: The caregiver must be responsive to the child's physical, social, and emotional needs; and the caregiver and child must engage in mutually enjoyable interactions (Bowlby, 1969) ( [link] ).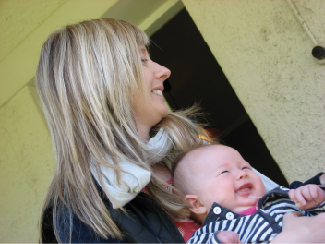 While Bowlby thought attachment was an all-or-nothing process, Mary Ainsworth's (1970) research showed otherwise. Ainsworth wanted to know if children differ in the ways they bond, and if so, why. To find the answers, she used the Strange Situation procedure to study attachment between mothers and their infants (1970). In the Strange Situation, the mother (or primary caregiver) and the infant (age 12-18 months) are placed in a room together. There are toys in the room, and the caregiver and child spend some time alone in the room. After the child has had time to explore her surroundings, a stranger enters the room. The mother then leaves her baby with the stranger. After a few minutes, she returns to comfort her child.
Based on how the infants/toddlers responded to the separation and reunion, Ainsworth identified three types of parent-child attachments: secure, avoidant, and resistant (Ainsworth&Bell, 1970). A fourth style, known as disorganized attachment, was later described (Main&Solomon, 1990). The most common type of attachment—also considered the healthiest—is called secure attachment ( [link] ). In this type of attachment, the toddler prefers his parent over a stranger. The attachment figure is used as a secure base to explore the environment and is sought out in times of stress. Securely attached children were distressed when their caregivers left the room in the Strange Situation experiment, but when their caregivers returned, the securely attached children were happy to see them. Securely attached children have caregivers who are sensitive and responsive to their needs.