An important cognitive change occurs in children this age. Recall that Piaget described 2–3 year olds as egocentric, meaning that they do not have an awareness of others' points of view. Between 3 and 5 years old, children come to understand that people have thoughts, feelings, and beliefs that are different from their own. This is known as theory-of-mind (TOM). Children can use this skill to tease others, persuade their parents to purchase a candy bar, or understand why a sibling might be angry. When children develop TOM, they can recognize that others have false beliefs (Dennett, 1987; Callaghan et al., 2005).
False-belief tasks are useful in determining a child's acquisition of theory-of-mind (TOM). Take a look at this video clip showing a false-belief task involving a box of crayons.
Cognitive skills continue to expand in middle and late childhood (6–11 years old). Thought processes become more logical and organized when dealing with concrete information ( [link] ). Children at this age understand concepts such as the past, present, and future, giving them the ability to plan and work toward goals. Additionally, they can process complex ideas such as addition and subtraction and cause-and-effect relationships. However, children's attention spans tend to be very limited until they are around 11 years old. After that point, it begins to improve through adulthood.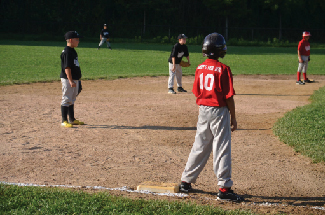 One well-researched aspect of cognitive development is language acquisition. As mentioned earlier, the order in which children learn language structures is consistent across children and cultures (Hatch, 1983). You've also learned that some psychological researchers have proposed that children possess a biological predisposition for language acquisition.
Starting before birth, babies begin to develop language and communication skills. At birth, babies apparently recognize their mother's voice and can discriminate between the language(s) spoken by their mothers and foreign languages, and they show preferences for faces that are moving in synchrony with audible language (Blossom&Morgan, 2006; Pickens, 1994; Spelke&Cortelyou, 1981).
Children communicate information through gesturing long before they speak, and there is some evidence that gesture usage predicts subsequent language development (Iverson&Goldin-Meadow, 2005). In terms of producing spoken language, babies begin to coo almost immediately. Cooing is a one-syllable combination of a consonant and a vowel sound (e.g., coo or ba). Interestingly, babies replicate sounds from their own languages. A baby whose parents speak French will coo in a different tone than a baby whose parents speak Spanish or Urdu. After cooing, the baby starts to babble. Babbling begins with repeating a syllable, such as ma-ma, da-da, or ba-ba. When a baby is about 12 months old, we expect her to say her first word for meaning, and to start combining words for meaning at about 18 months.