Implicit memories are memories that are not part of our consciousness. They are memories formed from behaviors. Implicit memory is also called non-declarative memory.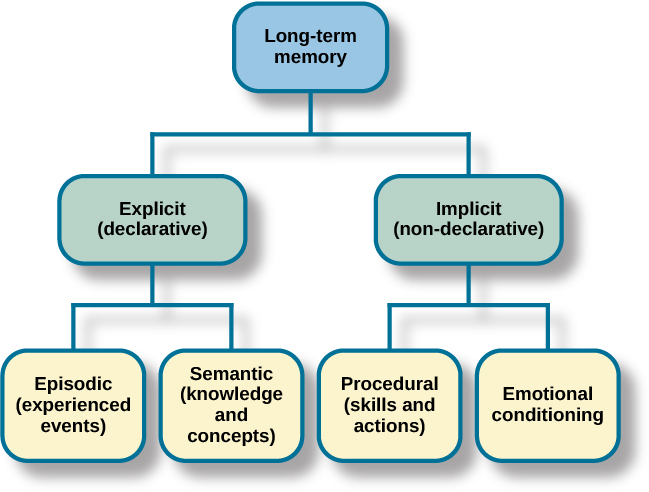 Procedural memory is a type of implicit memory: it stores information about how to do things. It is the memory for skilled actions, such as how to brush your teeth, how to drive a car, how to swim the crawl (freestyle) stroke. If you are learning how to swim freestyle, you practice the stroke: how to move your arms, how to turn your head to alternate breathing from side to side, and how to kick your legs. You would practice this many times until you become good at it. Once you learn how to swim freestyle and your body knows how to move through the water, you will never forget how to swim freestyle, even if you do not swim for a couple of decades. Similarly, if you present an accomplished guitarist with a guitar, even if he has not played in a long time, he will still be able to play quite well.
Declarative memory has to do with the storage of facts and events we personally experienced. Explicit (declarative) memory has two parts: semantic memory and episodic memory. Semantic means having to do with language and knowledge about language. An example would be the question "what does argumentative mean?" Stored in our semantic memory is knowledge about words, concepts, and language-based knowledge and facts. For example, answers to the following questions are stored in your semantic memory:
Who was the first President of the United States?
What is democracy?
What is the longest river in the world?
Episodic memory is information about events we have personally experienced. The concept of episodic memory was first proposed about 40 years ago (Tulving, 1972). Since then, Tulving and others have looked at scientific evidence and reformulated the theory. Currently, scientists believe that episodic memory is memory about happenings in particular places at particular times, the what, where, and when of an event (Tulving, 2002). It involves recollection of visual imagery as well as the feeling of familiarity (Hassabis&Maguire, 2007).
Can you remember everything you ever did or said?
Episodic memories are also called autobiographical memories. Let's quickly test your autobiographical memory. What were you wearing exactly five years ago today? What did you eat for lunch on April 10, 2009? You probably find it difficult, if not impossible, to answer these questions. Can you remember every event you have experienced over the course of your life—meals, conversations, clothing choices, weather conditions, and so on? Most likely none of us could even come close to answering these questions; however, American actress Marilu Henner , best known for the television show Taxi, can remember. She has an amazing and highly superior autobiographical memory ( [link] ).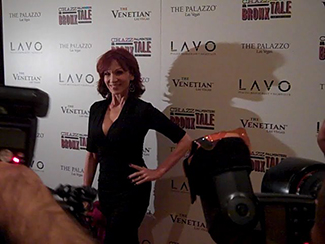 Very few people can recall events in this way; right now, only 12 known individuals have this ability, and only a few have been studied (Parker, Cahill&McGaugh 2006). And although hyperthymesia normally appears in adolescence, two children in the United States appear to have memories from well before their tenth birthdays.