Beyond the damage to the frontal lobe itself, subsequent investigations into the rod's path also identified probable damage to pathways between the frontal lobe and other brain structures, including the limbic system. With connections between the planning functions of the frontal lobe and the emotional processes of the limbic system severed, Gage had difficulty controlling his emotional impulses.
However, there is some evidence suggesting that the dramatic changes in Gage's personality were exaggerated and embellished. Gage's case occurred in the midst of a 19 th century debate over localization—regarding whether certain areas of the brain are associated with particular functions. On the basis of extremely limited information about Gage, the extent of his injury, and his life before and after the accident, scientists tended to find support for their own views, on whichever side of the debate they fell (Macmillan, 1999).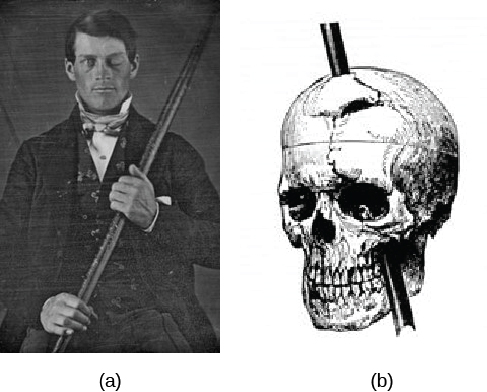 The brain's parietal lobe is located immediately behind the frontal lobe, and is involved in processing information from the body's senses. It contains the somatosensory cortex , which is essential for processing sensory information from across the body, such as touch, temperature, and pain. The somatosensory cortex is organized topographically, which means that spatial relationships that exist in the body are maintained on the surface of the somatosensory cortex ( [link] ). For example, the portion of the cortex that processes sensory information from the hand is adjacent to the portion that processes information from the wrist.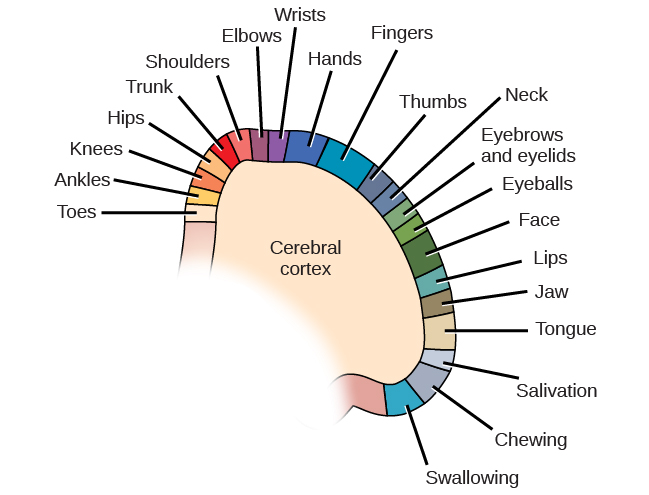 The temporal lobe is located on the side of the head (temporal means "near the temples"), and is associated with hearing, memory, emotion, and some aspects of language. The auditory cortex , the main area responsible for processing auditory information, is located within the temporal lobe. Wernicke's area , important for speech comprehension, is also located here. Whereas individuals with damage to Broca's area have difficulty producing language, those with damage to Wernicke's area can produce sensible language, but they are unable to understand it ( [link] ).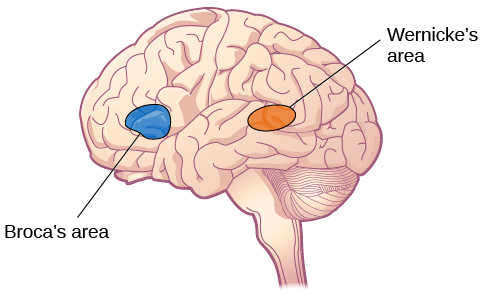 The occipital lobe is located at the very back of the brain, and contains the primary visual cortex, which is responsible for interpreting incoming visual information. The occipital cortex is organized retinotopically, which means there is a close relationship between the position of an object in a person's visual field and the position of that object's representation on the cortex. You will learn much more about how visual information is processed in the occipital lobe when you study sensation and perception.