By the end of this section, you will be able to:
Explain the basic principles of the theory of evolution by natural selection
Describe the differences between genotype and phenotype
Discuss how gene-environment interactions are critical for expression of physical and psychological characteristics
Psychological researchers study genetics in order to better understand the biological basis that contributes to certain behaviors. While all humans share certain biological mechanisms, we are each unique. And while our bodies have many of the same parts—brains and hormones and cells with genetic codes—these are expressed in a wide variety of behaviors, thoughts, and reactions.
Why do two people infected by the same disease have different outcomes: one surviving and one succumbing to the ailment? How are genetic diseases passed through family lines? Are there genetic components to psychological disorders, such as depression or schizophrenia? To what extent might there be a psychological basis to health conditions such as childhood obesity?
To explore these questions, let's start by focusing on a specific disease, sickle-cell anemia , and how it might affect two infected sisters. Sickle-cell anemia is a genetic condition in which red blood cells, which are normally round, take on a crescent-like shape ( [link] ). The changed shape of these cells affects how they function: sickle-shaped cells can clog blood vessels and block blood flow, leading to high fever, severe pain, swelling, and tissue damage.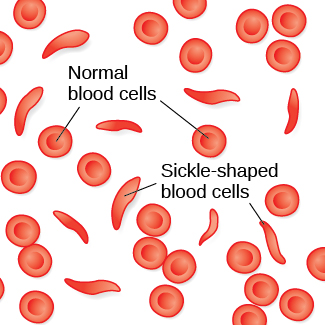 Many people with sickle-cell anemia—and the particular genetic mutation that causes it—die at an early age. While the notion of "survival of the fittest" may suggest that people suffering from this disease have a low survival rate and therefore the disease will become less common, this is not the case. Despite the negative evolutionary effects associated with this genetic mutation, the sickle-cell gene remains relatively common among people of African descent. Why is this? The explanation is illustrated with the following scenario.
Imagine two young women—Luwi and Sena—sisters in rural Zambia, Africa. Luwi carries the gene for sickle-cell anemia; Sena does not carry the gene. Sickle-cell carriers have one copy of the sickle-cell gene but do not have full-blown sickle-cell anemia. They experience symptoms only if they are severely dehydrated or are deprived of oxygen (as in mountain climbing). Carriers are thought to be immune from malaria (an often deadly disease that is widespread in tropical climates) because changes in their blood chemistry and immune functioning prevent the malaria parasite from having its effects (Gong, Parikh, Rosenthal,&Greenhouse, 2013). However, full-blown sickle-cell anemia, with two copies of the sickle-cell gene, does not provide immunity to malaria.
While walking home from school, both sisters are bitten by mosquitos carrying the malaria parasite. Luwi does not get malaria because she carries the sickle-cell mutation. Sena, on the other hand, develops malaria and dies just two weeks later. Luwi survives and eventually has children, to whom she may pass on the sickle-cell mutation.