Psychoanalysis is a therapy approach that typically takes years. Over the course of time, the patient reveals a great deal about himself to the therapist. Freud suggested that during this patient-therapist relationship, the patient comes to develop strong feelings for the therapist—maybe positive feelings, maybe negative feelings. Freud called this transference : the patient transfers all the positive or negative emotions associated with the patient's other relationships to the psychoanalyst. For example, Crystal is seeing a psychoanalyst. During the years of therapy, she comes to see her therapist as a father figure. She transfers her feelings about her father onto her therapist, perhaps in an effort to gain the love and attention she did not receive from her own father.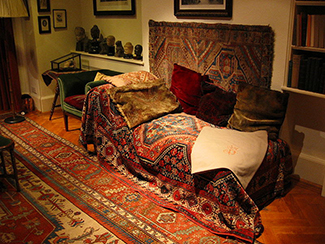 Today, Freud's psychoanalytical perspective has been expanded upon by the developments of subsequent theories and methodologies: the psychodynamic perspective. This approach to therapy remains centered on the role of people's internal drives and forces, but treatment is less intensive than Freud's original model.
View a brief video that presents an overview of psychoanalysis theory, research, and practice.
Psychotherapy: play therapy
Play therapy is often used with children since they are not likely to sit on a couch and recall their dreams or engage in traditional talk therapy. This technique uses a therapeutic process of play to "help clients prevent or resolve psychosocial difficulties and achieve optimal growth" (O'Connor, 2000, p. 7). The idea is that children play out their hopes, fantasies, and traumas while using dolls, stuffed animals, and sandbox figurines ( [link] ). Play therapy can also be used to help a therapist make a diagnosis. The therapist observes how the child interacts with toys (e.g., dolls, animals, and home settings) in an effort to understand the roots of the child's disturbed behavior. Play therapy can be nondirective or directive. In nondirective play therapy, children are encouraged to work through their problems by playing freely while the therapist observes (LeBlanc&Ritchie, 2001). In directive play therapy, the therapist provides more structure and guidance in the play session by suggesting topics, asking questions, and even playing with the child (Harter, 1977).