By the end of this section, you will be able to:
Describe social roles and how they influence behavior
Explain what social norms are and how they influence behavior
Define script
Describe the findings of Zimbardo's Stanford prison experiment
As you've learned, social psychology is the study of how people affect one another's thoughts, feelings, and behaviors. We have discussed situational perspectives and social psychology's emphasis on the ways in which a person's environment, including culture and other social influences, affect behavior. In this section, we examine situational forces that have a strong influence on human behavior including social roles, social norms, and scripts. We discuss how humans use the social environment as a source of information, or cues, on how to behave. Situational influences on our behavior have important consequences, such as whether we will help a stranger in an emergency or how we would behave in an unfamiliar environment.
Social roles
One major social determinant of human behavior is our social roles. A social role is a pattern of behavior that is expected of a person in a given setting or group (Hare, 2003). Each one of us has several social roles. You may be, at the same time, a student, a parent, an aspiring teacher, a son or daughter, a spouse, and a lifeguard. How do these social roles influence your behavior? Social roles are defined by culturally shared knowledge. That is, nearly everyone in a given culture knows what behavior is expected of a person in a given role. For example, what is the social role for a student? If you look around a college classroom you will likely see students engaging in studious behavior, taking notes, listening to the professor, reading the textbook, and sitting quietly at their desks ( [link] ). Of course you may see students deviating from the expected studious behavior such as texting on their phones or using Facebook on their laptops, but in all cases, the students that you observe are attending class—a part of the social role of students.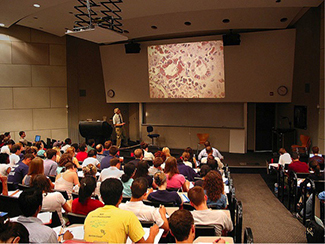 Social roles, and our related behavior, can vary across different settings. How do you behave when you are engaging in the role of son or daughter and attending a family function? Now imagine how you behave when you are engaged in the role of employee at your workplace. It is very likely that your behavior will be different. Perhaps you are more relaxed and outgoing with your family, making jokes and doing silly things. But at your workplace you might speak more professionally, and although you may be friendly, you are also serious and focused on getting the work completed. These are examples of how our social roles influence and often dictate our behavior to the extent that identity and personality can vary with context (that is, in different social groups) (Malloy, Albright, Kenny, Agatstein&Winquist, 1997).
Social norms
As discussed previously, social roles are defined by a culture's shared knowledge of what is expected behavior of an individual in a specific role. This shared knowledge comes from social norms. A social norm is a group's expectation of what is appropriate and acceptable behavior for its members—how they are supposed to behave and think (Deutsch&Gerard, 1955; Berkowitz, 2004). How are we expected to act? What are we expected to talk about? What are we expected to wear? In our discussion of social roles we noted that colleges have social norms for students' behavior in the role of student and workplaces have social norms for employees' behaviors in the role of employee. Social norms are everywhere including in families, gangs, and on social media outlets. What are some social norms on Facebook?