View a brief video recapping some of the major concepts explored by cognitive psychologists.
Developmental psychology
Developmental psychology is the scientific study of development across a lifespan. Developmental psychologists are interested in processes related to physical maturation. However, their focus is not limited to the physical changes associated with aging, as they also focus on changes in cognitive skills, moral reasoning, social behavior, and other psychological attributes.
Early developmental psychologists focused primarily on changes that occurred through reaching adulthood, providing enormous insight into the differences in physical, cognitive, and social capacities that exist between very young children and adults. For instance, research by Jean Piaget ( [link] ) demonstrated that very young children do not demonstrate object permanence. Object permanence refers to the understanding that physical things continue to exist, even if they are hidden from us. If you were to show an adult a toy, and then hide it behind a curtain, the adult knows that the toy still exists. However, very young infants act as if a hidden object no longer exists. The age at which object permanence is achieved is somewhat controversial (Munakata, McClelland, Johnson, and Siegler, 1997).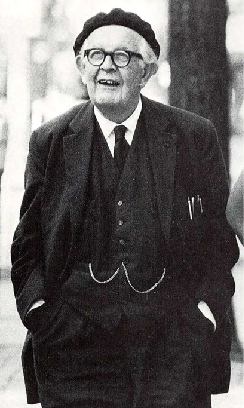 While Piaget was focused on cognitive changes during infancy and childhood as we move to adulthood, there is an increasing interest in extending research into the changes that occur much later in life. This may be reflective of changing population demographics of developed nations as a whole. As more and more people live longer lives, the number of people of advanced age will continue to increase. Indeed, it is estimated that there were just over 40 million people aged 65 or older living in the United States in 2010. However, by 2020, this number is expected to increase to about 55 million. By the year 2050, it is estimated that nearly 90 million people in this country will be 65 or older (Department of Health and Human Services, n.d.).
Personality psychology
Personality psychology focuses on patterns of thoughts and behaviors that make each individual unique. Several individuals (e.g., Freud and Maslow) that we have already discussed in our historical overview of psychology, and the American psychologist Gordon Allport, contributed to early theories of personality. These early theorists attempted to explain how an individual's personality develops from his or her given perspective. For example, Freud proposed that personality arose as conflicts between the conscious and unconscious parts of the mind were carried out over the lifespan. Specifically, Freud theorized that an individual went through various psychosexual stages of development. According to Freud, adult personality would result from the resolution of various conflicts that centered on the migration of erogenous (or sexual pleasure-producing) zones from the oral (mouth) to the anus to the phallus to the genitals. Like many of Freud's theories, this particular idea was controversial and did not lend itself to experimental tests (Person, 1980).