Polymer sample preparation techniques
Sputter coating
A sputter coater may be purchased that deposits single layers of gold, gold-palladium, tungsten, chromium, platinum, titanium, or other metals in a very controlled thickness pattern. It is possible, and desirable, to coat only a few nm's of metal onto the sample surface.
Spin coating
Many polymer films are depositing via a spin coater which spins a substrate (often ITO glass) and drops of polymer liquid are dispersed an even thickness on top of the substrate.
Staining
Another option for polymer sample preparation is staining the sample. Stains act in different ways, but typical stains for polymers are osmium tetroxide (OsO 4 ), ruthenium tetroxide (RuO 4 ) phosphotungstic acid (H 3 PW 12 O 40 ), hydrazine (N 2 H 4 ), and silver sulfide (Ag 2 S).
Examples
Comb-block copolymer (microstructure of cast film)
Cast polymer film (see [link] ).
To view interior structure, the film was cut with a microtome or razor blade after the film was frozen in liquid N 2 and fractured.
Stained with RuO 4 vapor (after cutting).
Structure measurements were averaged over a minimum of 25 measurements.

Polystyrene-polylactide bottlebrush copolymers (lamellar spacing)
Pressed polymer samples into disks and annealed for 16 h at 170 °C.
To determine ordered morphologies, the disk was fractured (see [link] ).
Used SEM to verify lamellar spacing from USAXS.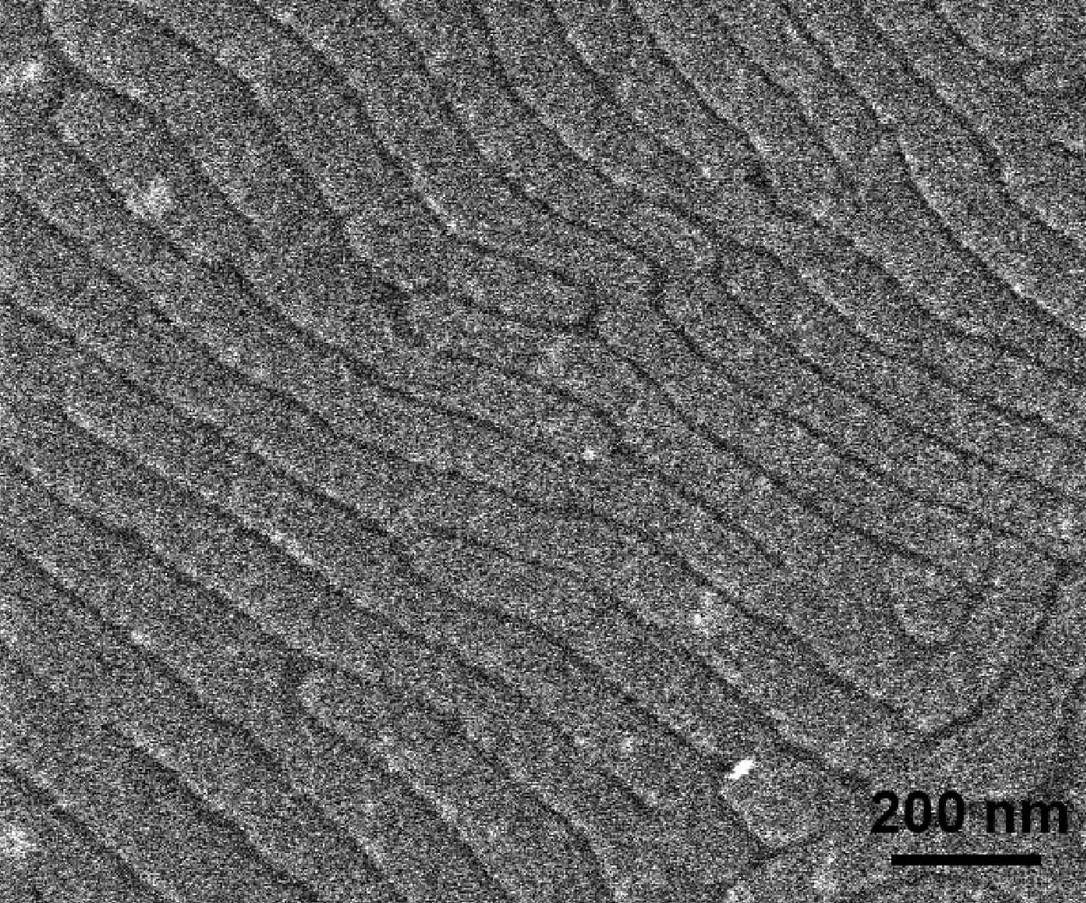 Swnts in ultrahigh molecular weight polyethylene
Dispersed SWNTs in interactive polymer.
Samples were sputter-coated in gold to enhance contrast.
The films were solution-crystallized and the cross-section was imaged.
Environmental SEM (ESEM) was used to show morphologies of composite materials.
WD = 7 mm.
Study was conducted to image sample before and after drawing of film.
Images confirmed the uniform distribution of SWNT in PE ( [link] ).
M W = 10,000 Dalton.
Study performed to compare transparency before and after UV irradiation.

Nanostructures in conjugated polymers (nanoporous films)
Polymer and NP were processed into thin films and heated to crosslink.
SEM was used to characterize morphology and crystalline structure ( [link] ).
SEM was used to determine porosity and pore size.
Magnified orders of 200 nm - 1 μm.
WD = 8 mm.
M W = 23,000 Daltons
Sample prep: spin coating a solution of poly-(thiophene ester) with copper NPs suspended on to ITO coated glass slides. Ziess, Supra 35

Cryo-sem colloid polystyrene latex particles (fracture patterns)
Used cryogenic SEM (cryo-SEM) to visualize the microstructure of particles ( [link] ).
Particles were immobilized by fast-freezing in liquid N 2 at –196 °C.
Sample is fractured (-196 °C) to expose cross section.
3 nm sputter coated with platinum.
Shapes of the nanoparticles after fracture were evaluated as a function of crosslink density.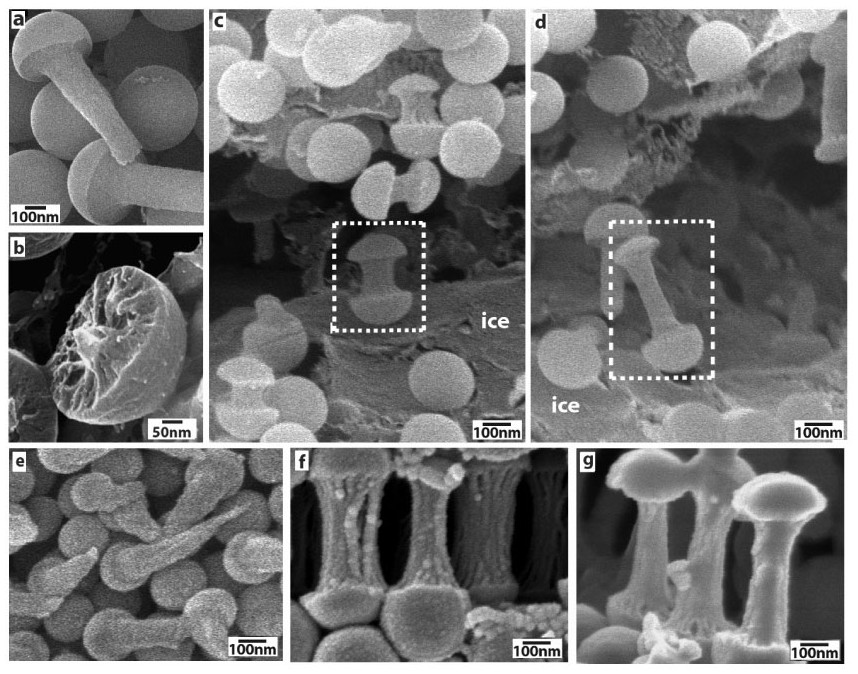 Bibliography
H. Ge, C. L. Zhao, S. Porzio, L. Zhuo, H. T. Davis, and L. E. Scriven, Macromolecules , 2006, 39 , 5531.
J. Rzayev, Macromolecules , 2009, 42 , 2135.
J. W. Andreasen, M. Jorgensen, and F. C. Krebs, Macromolecules , 2007, 40 , 7758.
M. B. Runge and N. B. Bowden, J. Am. Chem. Soc. , 2007, 129 , 10551.
P. J. Goodhew, J. Humphreys, and R. Beanland, Electron Microscopy and Analysis , Taylor&Francis Inc., New York (2001).
Q. Zhang, D. R. Lippits, and S. Rastogi, Macromolecules , 2006, 39 , 658.