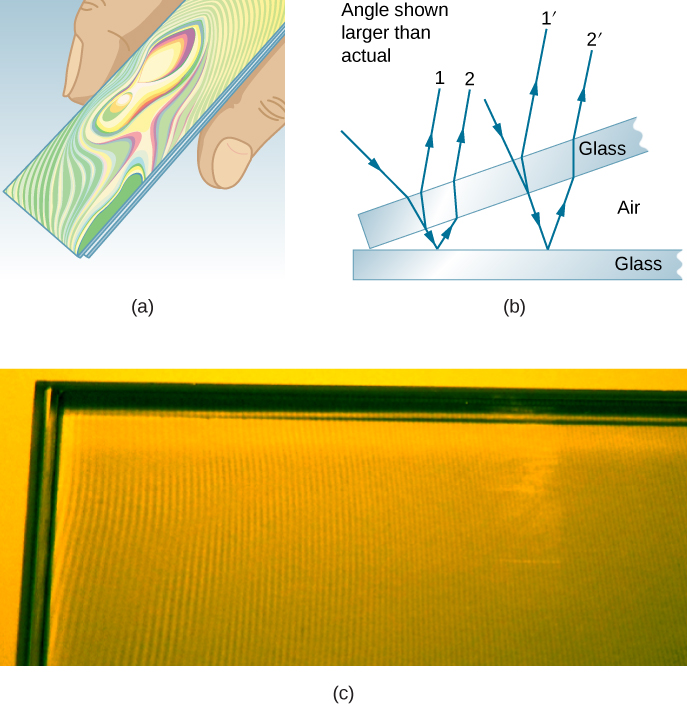 An important application of thin-film interference is found in the manufacturing of optical instruments. A lens or mirror can be compared with a master as it is being ground, allowing it to be shaped to an accuracy of less than a wavelength over its entire surface. [link] illustrates the phenomenon called Newton's rings , which occurs when the plane surfaces of two lenses are placed together. (The circular bands are called Newton's rings because Isaac Newton described them and their use in detail. Newton did not discover them; Robert Hooke did, and Newton did not believe they were due to the wave character of light.) Each successive ring of a given color indicates an increase of only half a wavelength in the distance between the lens and the blank, so that great precision can be obtained. Once the lens is perfect, no rings appear.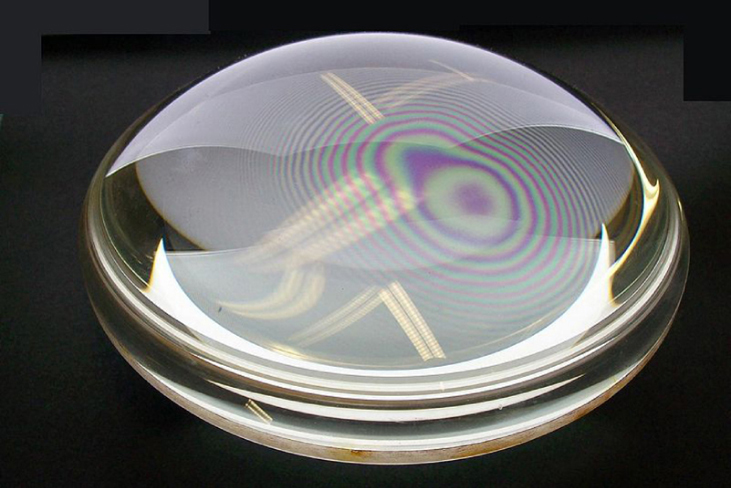 Thin-film interference has many other applications, both in nature and in manufacturing. The wings of certain moths and butterflies have nearly iridescent colors due to thin-film interference. In addition to pigmentation, the wing's color is affected greatly by constructive interference of certain wavelengths reflected from its film-coated surface. Some car manufacturers offer special paint jobs that use thin-film interference to produce colors that change with angle. This expensive option is based on variation of thin-film path length differences with angle. Security features on credit cards, banknotes, driving licenses, and similar items prone to forgery use thin-film interference, diffraction gratings, or holograms. As early as 1998, Australia led the way with dollar bills printed on polymer with a diffraction grating security feature, making the currency difficult to forge. Other countries, such as Canada, New Zealand, and Taiwan, are using similar technologies, while US currency includes a thin-film interference effect.
Summary
When light reflects from a medium having an index of refraction greater than that of the medium in which it is traveling, a phase change (or a shift) occurs.
Thin-film interference occurs between the light reflected from the top and bottom surfaces of a film. In addition to the path length difference, there can be a phase change.
Conceptual questions