Another important example of the combination of phase change and convection occurs when water evaporates from the oceans. Heat is removed from the ocean when water evaporates. If the water vapor condenses in liquid droplets as clouds form, possibly far from the ocean, heat is released in the atmosphere. Thus, there is an overall transfer of heat from the ocean to the atmosphere. This process is the driving power behind thunderheads, those great cumulus clouds that rise as much as 20.0 km into the stratosphere ( [link] ). Water vapor carried in by convection condenses, releasing tremendous amounts of energy. This energy causes the air to expand and rise to colder altitudes. More condensation occurs in these regions, which in turn drives the cloud even higher. This mechanism is an example of positive feedback, since the process reinforces and accelerates itself. It sometimes produces violent storms, with lightning and hail. The same mechanism drives hurricanes.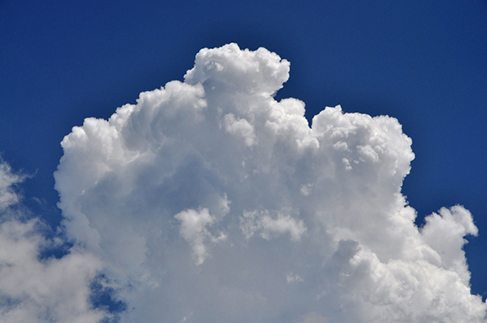 Check Your Understanding Explain why using a fan in the summer feels refreshing.
Using a fan increases the flow of air: Warm air near your body is replaced by cooler air from elsewhere. Convection increases the rate of heat transfer so that moving air "feels" cooler than still air.
Got questions? Get instant answers now!
Radiation
You can feel the heat transfer from the Sun. The space between Earth and the Sun is largely empty, so the Sun warms us without any possibility of heat transfer by convection or conduction. Similarly, you can sometimes tell that the oven is hot without touching its door or looking inside—it may just warm you as you walk by. In these examples, heat is transferred by radiation ( [link] ). That is, the hot body emits electromagnetic waves that are absorbed by the skin. No medium is required for electromagnetic waves to propagate. Different names are used for electromagnetic waves of different wavelengths: radio waves, microwaves, infrared radiation, visible light, ultraviolet radiation, X-rays, and gamma rays.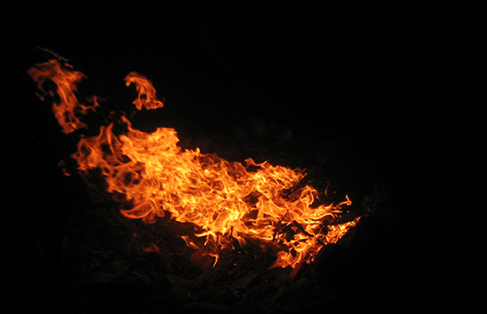 The energy of electromagnetic radiation varies over a wide range, depending on the wavelength: A shorter wavelength (or higher frequency) corresponds to a higher energy. Because more heat is radiated at higher temperatures, higher temperatures produce more intensity at every wavelength but especially at shorter wavelengths. In visible light, wavelength determines color—red has the longest wavelength and violet the shortest—so a temperature change is accompanied by a color change. For example, an electric heating element on a stove glows from red to orange, while the higher-temperature steel in a blast furnace glows from yellow to white. Infrared radiation is the predominant form radiated by objects cooler than the electric element and the steel. The radiated energy as a function of wavelength depends on its intensity, which is represented in [link] by the height of the distribution. ( Electromagnetic Waves explains more about the electromagnetic spectrum, and Photons and Matter Waves discusses why the decrease in wavelength corresponds to an increase in energy.)