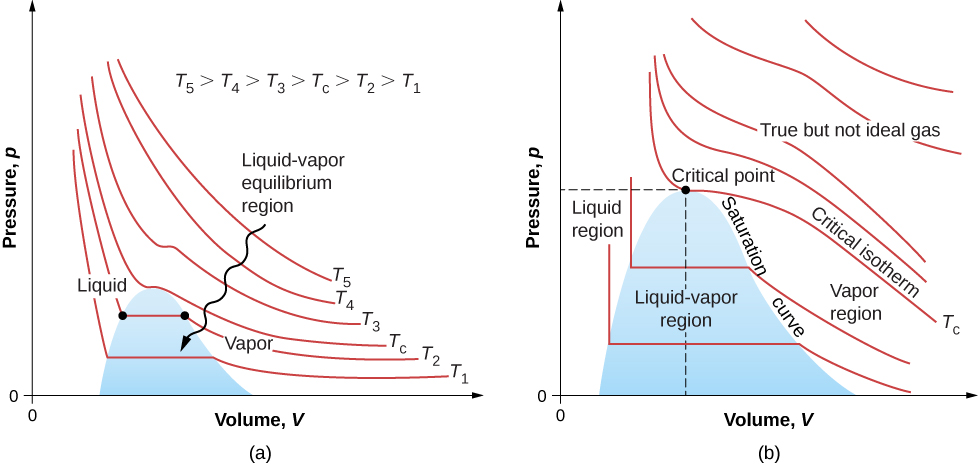 The isotherms above do not go through the liquid-gas transition. Therefore, liquid cannot exist above that temperature, which is the critical temperature (described in the chapter on temperature and heat). At sufficiently low pressure above that temperature, the gas has the density of a liquid but will not condense; the gas is said to be supercritical . At higher pressure, it is solid. Carbon dioxide, for example, has no liquid phase at a temperature above . The critical pressure is the maximum pressure at which the liquid can exist. The point on the pV diagram at the critical pressure and temperature is the critical point (which you learned about in the chapter on temperature and heat). [link] lists representative critical temperatures and pressures.
Critical temperatures and pressures for various substances
Substance
Critical temperature
Critical pressure
K
Pa
atm
Water
647.4
374.3
219.0
Sulfur dioxide
430.7
157.6
78.0
Ammonia
405.5
132.4
111.7
Carbon dioxide
304.2
31.1
73.2
Oxygen
154.8
–118.4
50.3
Nitrogen
126.2
–146.9
33.6
Hydrogen
33.3
–239.9
12.9
Helium
5.3
–267.9
2.27
Summary
The ideal gas law relates the pressure and volume of a gas to the number of gas molecules and the temperature of the gas.
A mole of any substance has a number of molecules equal to the number of atoms in a 12-g sample of carbon-12. The number of molecules in a mole is called Avogadro's number


A mole of any substance has a mass in grams numerically equal to its molecular mass in unified mass units, which can be determined from the periodic table of elements. The ideal gas law can also be written and solved in terms of the number of moles of gas:



where n is the number of moles and R is the universal gas constant,


The ideal gas law is generally valid at temperatures well above the boiling temperature.
The van der Waals equation of state for gases is valid closer to the boiling point than the ideal gas law.
Above the critical temperature and pressure for a given substance, the liquid phase does not exist, and the sample is "supercritical."
Conceptual questions
Two molecules can react with one molecule to produce two molecules. How many moles of hydrogen molecules are needed to react with one mole of oxygen molecules?
2 moles, as that will contain twice as many molecules as the 1 mole of oxygen
Got questions? Get instant answers now!
Questions & Answers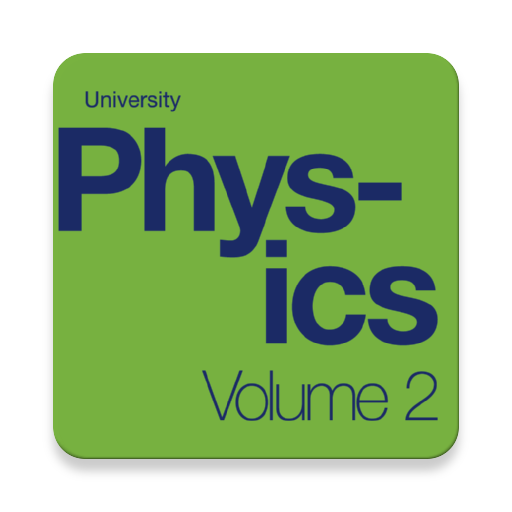 Complete Textbook by OpenStax
Multiple Choices Questions (MCQ)
Essay Questions Flash Cards
Key-Terms Flash Cards
Source:  OpenStax, University physics volume 2. OpenStax CNX. Oct 06, 2016 Download for free at http://cnx.org/content/col12074/1.3
Google Play and the Google Play logo are trademarks of Google Inc.
Notification Switch
Would you like to follow the 'University physics volume 2' conversation and receive update notifications?