Macroeconomics
Chapter 1 Welcome to Economics!
Chapter 2 Choice in a World of Scarcity
Chapter 3 Demand and Supply
Chapter 4 Labor and Financial Markets
Chapter 5 Elasticity
Chapter 6 The Macroeconomic Perspective
Chapter 7 Economic Growth
Chapter 8 Unemployment
Chapter 9 Inflation
Chapter 10 The International Trade and Capital Flows
Chapter 11 The Aggregate Demand/Aggregate Supply Model
Chapter 12 The Keynesian Perspective
Chapter 13 The Neoclassical Perspective
Chapter 14 Money and Banking
Chapter 15 Monetary Policy and Bank Regulation
Chapter 16 Exchange Rates and International Capital Flows
Chapter 17 Government Budgets and Fiscal Policy
Chapter 18 The Impacts of Government Borrowing
Chapter 19 Macroeconomic Policy Around the World
Chapter 20 International Trade
Chapter 21 Globalization and Protectionism

Appendix A The Use of Mathematics in Principles of Economics
Appendix B The Expenditure-Output Model
Alternate sequencing
Principles of Macroeconomics was conceived and written to fit a particular topical sequence, but it can be used flexibly to accommodate other course structures. One such potential structure, which will fit reasonably well with the textbook content, is provided. Please consider, however, that the chapters were not written to be completely independent, and that the proposed alternate sequence should be carefully considered for student preparation and textual consistency.

Chapter 1 Welcome to Economics!
Chapter 2 Choice in a World of Scarcity
Chapter 3 Demand and Supply
Chapter 4 Labor and Financial Markets
Chapter 5 Elasticity
Chapter 20 International Trade
Chapter 6 The Macroeconomic Perspective
Chapter 7 Economic Growth
Chapter 8 Unemployment
Chapter 9 Inflation
Chapter 10 The International Trade and Capital Flows
Chapter 12 The Keynesian Perspective
Chapter 13 The Neoclassical Perspective
Chapter 14 Money and Banking
Chapter 15 Monetary Policy and Bank Regulation
Chapter 16 Exchange Rates and International Capital Flows
Chapter 17 Government Budgets and Fiscal Policy
Chapter 11 The Aggregate Demand/Aggregate Supply Model
Chapter 18 The Impacts of Government Borrowing
Chapter 19 Macroeconomic Policy Around the World
Chapter 21 Globalization and Protectionism

Appendix A The Use of Mathematics in Principles of Economics
Appendix B The Expenditure-Output Model
Pedagogical foundation
Throughout the OpenStax version of Principles of Macroeconomics , you will find new features that engage the students in economic inquiry by taking selected topics a step further. Our features include:
Bring It Home: This added feature is a brief case study, specific to each chapter, which connects the chapter's main topic to the real word. It is broken up into two parts: the first at the beginning of the chapter (in the Intro module) and the second at chapter's end, when students have learned what's necessary to understand the case and "bring home" the chapter's core concepts.
Work It Out: This added feature asks students to work through a generally analytical or computational problem, and guides them step-by-step to find out how its solution is derived.
Clear It Up: This boxed feature, which includes pre-existing features from Taylor's text, addresses common student misconceptions about the content. Clear It Ups are usually deeper explanations of something in the main body of the text. Each CIU starts with a question. The rest of the feature explains the answer.
Link It Up: This added feature is a very brief introduction to a website that is pertinent to students' understanding and enjoyment of the topic at hand.
Questions & Answers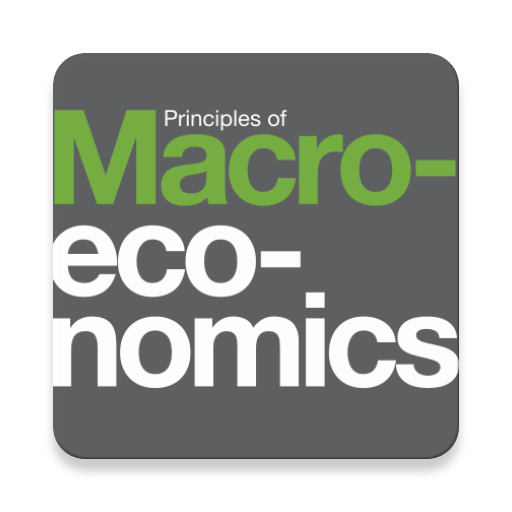 Complete Textbook by OpenStax
Multiple Choices Questions (MCQ)
Essay Questions Flash Cards
Key-Terms Flash Cards
Source:  OpenStax, Macroeconomics. OpenStax CNX. Jun 16, 2014 Download for free at http://legacy.cnx.org/content/col11626/1.10
Google Play and the Google Play logo are trademarks of Google Inc.
Notification Switch
Would you like to follow the 'Macroeconomics' conversation and receive update notifications?