Force on a circular wire
A circular current loop of radius
R
carrying a current
I
is placed in the
xy
-plane. A constant uniform magnetic field cuts through the loop parallel to the
y
-axis (
[link]
). Find the magnetic force on the upper half of the loop, the lower half of the loop, and the total force on the loop.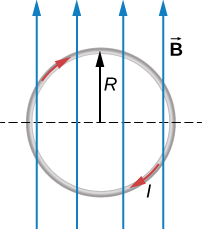 Strategy
The magnetic force on the upper loop should be written in terms of the differential force acting on each segment of the loop. If we integrate over each differential piece, we solve for the overall force on that section of the loop. The force on the lower loop is found in a similar manner, and the total force is the addition of these two forces.
Solution
A differential force on an arbitrary piece of wire located on the upper ring is:
where is the angle between the magnetic field direction (+ y ) and the segment of wire. A differential segment is located at the same radius, so using an arc-length formula, we have:
In order to find the force on a segment, we integrate over the upper half of the circle, from 0 to This results in:
The lower half of the loop is integrated from to zero, giving us:
The net force is the sum of these forces, which is zero.
Significance
The total force on any closed loop in a uniform magnetic field is zero. Even though each piece of the loop has a force acting on it, the net force on the system is zero. (Note that there is a net torque on the loop, which we consider in the next section.)
Got questions? Get instant answers now!