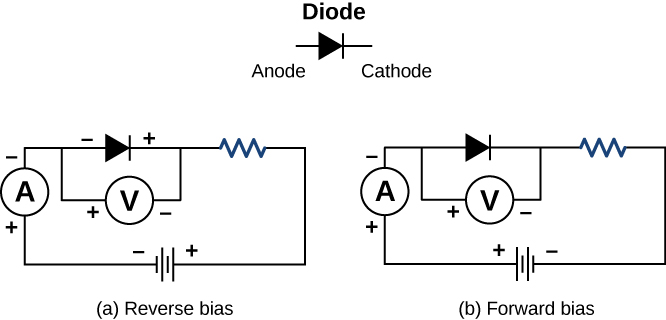 A plot of current versus voltage is shown in [link] . Note that the behavior of the diode is shown as current versus voltage, whereas the resistor operation was shown as voltage versus current. A diode consists of an anode and a cathode. When the anode is at a negative potential and the cathode is at a positive potential, as shown in part (a), the diode is said to have reverse bias. With reverse bias, the diode has an extremely large resistance and there is very little current flow—essentially zero current—through the diode and the resistor. As the voltage applied to the circuit increases, the current remains essentially zero, until the voltage reaches the breakdown voltage and the diode conducts current, as shown in [link] . When the battery and the potential across the diode are reversed, making the anode positive and the cathode negative, the diode conducts and current flows through the diode if the voltage is greater than 0.7 V. The resistance of the diode is close to zero. (This is the reason for the resistor in the circuit; if it were not there, the current would become very large.) You can see from the graph in [link] that the voltage and the current do not have a linear relationship. Thus, the diode is an example of a nonohmic device.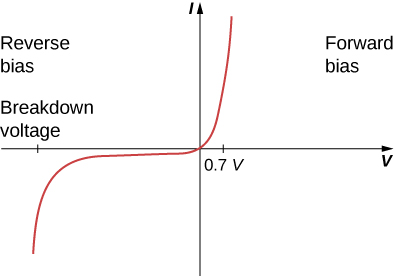 Ohm's law is commonly stated as , but originally it was stated as a microscopic view, in terms of the current density, the conductivity, and the electrical field. This microscopic view suggests the proportionality comes from the drift velocity of the free electrons in the metal that results from an applied electrical field. As stated earlier, the current density is proportional to the applied electrical field. The reformulation of Ohm's law is credited to Gustav Kirchhoff, whose name we will see again in the next chapter.
Summary
Ohm's law is an empirical relationship for current, voltage, and resistance for some common types of circuit elements, including resistors. It does not apply to other devices, such as diodes.
One statement of Ohm's law gives the relationship among current I , voltage V , and resistance R in a simple circuit as .
Another statement of Ohm's law, on a microscopic level, is .
Conceptual questions
Problems