Calculating potential of a point charge
Given a point charge at the origin, calculate the potential difference between point a distance from
q
, and a distance from
q
, where the two points have an angle of between them (
[link]
).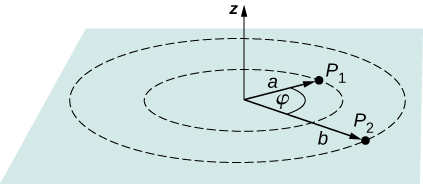 Strategy
Do this in two steps. The first step is to use and let and with and Then perform the integral. The second step is to integrate around an arc of constant radius
r
, which means we let with limits still using . Then add the two results together.
Solution
For the first part, for this system becomes which computes to
For the second step, becomes , but and therefore Adding the two parts together, we get 300 V.
Significance
We have demonstrated the use of the integral form of the potential difference to obtain a numerical result. Notice that, in this particular system, we could have also used the formula for the potential due to a point charge at the two points and simply taken the difference.
Got questions? Get instant answers now!
Before presenting problems involving electrostatics, we suggest a problem-solving strategy to follow for this topic.