By the end of this section, you will be able to:
Correlate the rate of change of current to the induced emf created by that current in the same circuit
Derive the self-inductance for a cylindrical solenoid
Derive the self-inductance for a rectangular toroid
Mutual inductance arises when a current in one circuit produces a changing magnetic field that induces an emf in another circuit. But can the magnetic field affect the current in the original circuit that produced the field? The answer is yes, and this is the phenomenon called self-inductance .
Inductors
[link] shows some of the magnetic field lines due to the current in a circular loop of wire. If the current is constant, the magnetic flux through the loop is also constant. However, if the current I were to vary with time—say, immediately after switch S is closed—then the magnetic flux would correspondingly change. Then Faraday's law tells us that an emf would be induced in the circuit, where
Since the magnetic field due to a current-carrying wire is directly proportional to the current, the flux due to this field is also proportional to the current; that is,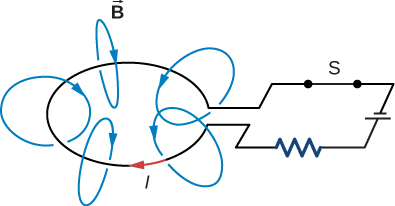 This can also be written as
where the constant of proportionality L is known as the self-inductance of the wire loop. If the loop has N turns, this equation becomes
By convention, the positive sense of the normal to the loop is related to the current by the right-hand rule, so in [link] , the normal points downward. With this convention, is positive in [link] , so L always has a positive value .
For a loop with N turns, so the induced emf may be written in terms of the self-inductance as
When using this equation to determine L , it is easiest to ignore the signs of and calculate L as
Since self-inductance is associated with the magnetic field produced by a current, any configuration of conductors possesses self-inductance. For example, besides the wire loop, a long, straight wire has self-inductance, as does a coaxial cable. A coaxial cable is most commonly used by the cable television industry and may also be found connecting to your cable modem. Coaxial cables are used due to their ability to transmit electrical signals with minimal distortions. Coaxial cables have two long cylindrical conductors that possess current and a self-inductance that may have undesirable effects.
A circuit element used to provide self-inductance is known as an inductor . It is represented by the symbol shown in [link] , which resembles a coil of wire, the basic form of the inductor. [link] shows several types of inductors commonly used in circuits.