By the end of the section, you will be able to:
Describe how to connect a voltmeter in a circuit to measure voltage
Describe how to connect an ammeter in a circuit to measure current
Describe the use of an ohmmeter
Ohm's law and Kirchhoff's method are useful to analyze and design electrical circuits, providing you with the voltages across, the current through, and the resistance of the components that compose the circuit. To measure these parameters require instruments, and these instruments are described in this section.
Dc voltmeters and ammeters
Whereas voltmeter s measure voltage, ammeter s measure current. Some of the meters in automobile dashboards, digital cameras, cell phones, and tuner-amplifiers are actually voltmeters or ammeters ( [link] ). The internal construction of the simplest of these meters and how they are connected to the system they monitor give further insight into applications of series and parallel connections.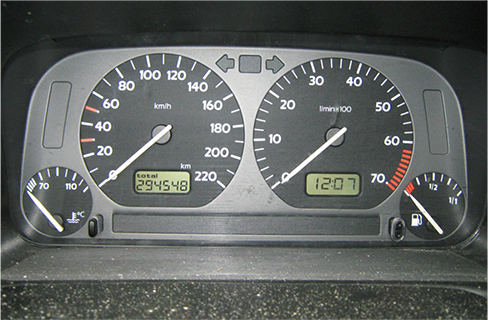 Measuring current with an ammeter
To measure the current through a device or component, the ammeter is placed in series with the device or component. A series connection is used because objects in series have the same current passing through them. (See [link] , where the ammeter is represented by the symbol A.)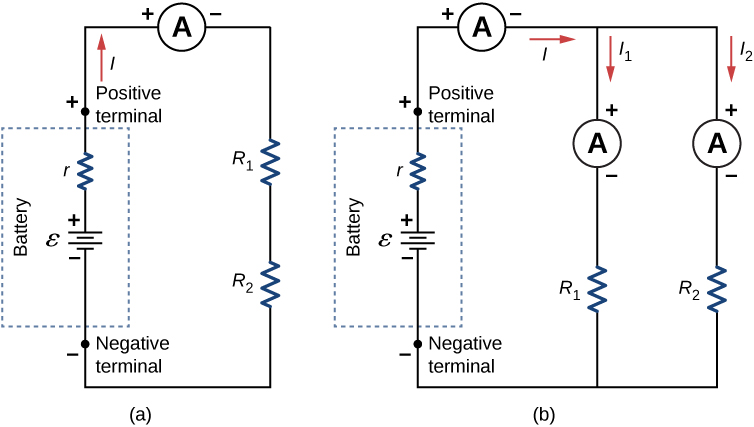 Ammeters need to have a very low resistance, a fraction of a milliohm. If the resistance is not negligible, placing the ammeter in the circuit would change the equivalent resistance of the circuit and modify the current that is being measured. Since the current in the circuit travels through the meter, ammeters normally contain a fuse to protect the meter from damage from currents which are too high.
Measuring voltage with a voltmeter
A voltmeter is connected in parallel with whatever device it is measuring. A parallel connection is used because objects in parallel experience the same potential difference. (See [link] , where the voltmeter is represented by the symbol V.)