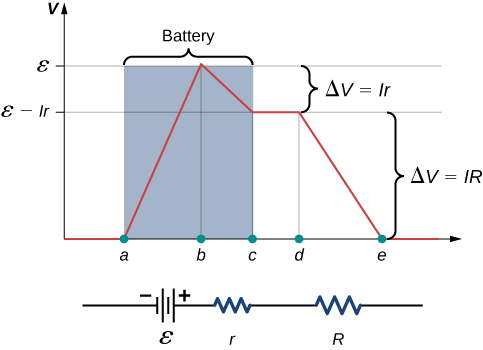 The current through the load resistor is . We see from this expression that the smaller the internal resistance r , the greater the current the voltage source supplies to its load R . As batteries are depleted, r increases. If r becomes a significant fraction of the load resistance, then the current is significantly reduced, as the following example illustrates.
Analyzing a circuit with a battery and a load
A given battery has a 12.00-V emf and an internal resistance of . (a) Calculate its terminal voltage when connected to a load. (b) What is the terminal voltage when connected to a load? (c) What power does the load dissipate? (d) If the internal resistance grows to , find the current, terminal voltage, and power dissipated by a load.
Strategy
The analysis above gave an expression for current when internal resistance is taken into account. Once the current is found, the terminal voltage can be calculated by using the equation . Once current is found, we can also find the power dissipated by the resistor.
Solution
Entering the given values for the emf, load resistance, and internal resistance into the expression above yields



Enter the known values into the equation to get the terminal voltage:



The terminal voltage here is only slightly lower than the emf, implying that the current drawn by this light load is not significant.
Similarly, with , the current is



The terminal voltage is now



The terminal voltage exhibits a more significant reduction compared with emf, implying is a heavy load for this battery. A "heavy load" signifies a larger draw of current from the source but not a larger resistance.
The power dissipated by the load can be found using the formula . Entering the known values gives



Note that this power can also be obtained using the expression , where V is the terminal voltage (10.0 V in this case).
Here, the internal resistance has increased, perhaps due to the depletion of the battery, to the point where it is as great as the load resistance. As before, we first find the current by entering the known values into the expression, yielding



Now the terminal voltage is



and the power dissipated by the load is



We see that the increased internal resistance has significantly decreased the terminal voltage, current, and power delivered to a load.
Questions & Answers
Receive real-time job alerts and never miss the right job again
Source:  OpenStax, University physics volume 2. OpenStax CNX. Oct 06, 2016 Download for free at http://cnx.org/content/col12074/1.3
Google Play and the Google Play logo are trademarks of Google Inc.
Notification Switch
Would you like to follow the 'University physics volume 2' conversation and receive update notifications?