By the end of this section, you will be able to:
Describe several different types of thermometers
Convert temperatures between the Celsius, Fahrenheit, and Kelvin scales
Any physical property that depends consistently and reproducibly on temperature can be used as the basis of a thermometer. For example, volume increases with temperature for most substances. This property is the basis for the common alcohol thermometer and the original mercury thermometers. Other properties used to measure temperature include electrical resistance, color, and the emission of infrared radiation ( [link] ).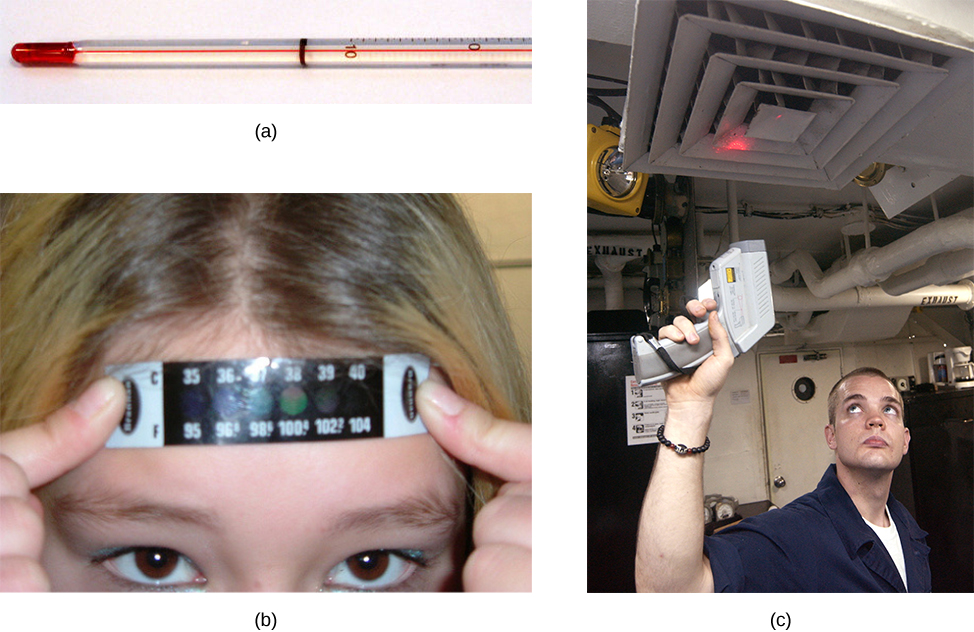 Thermometers measure temperature according to well-defined scales of measurement. The three most common temperature scales are Fahrenheit, Celsius, and Kelvin. Temperature scales are created by identifying two reproducible temperatures. The freezing and boiling temperatures of water at standard atmospheric pressure are commonly used.
On the Celsius scale , the freezing point of water is and the boiling point is The unit of temperature on this scale is the degree Celsius . The Fahrenheit scale (still the most frequently used for common purposes in the United States) has the freezing point of water at and the boiling point at Its unit is the degree Fahrenheit ( ). You can see that 100 Celsius degrees span the same range as 180 Fahrenheit degrees. Thus, a temperature difference of one degree on the Celsius scale is 1.8 times as large as a difference of one degree on the Fahrenheit scale, or
The definition of temperature in terms of molecular motion suggests that there should be a lowest possible temperature, where the average kinetic energy of molecules is zero (or the minimum allowed by quantum mechanics). Experiments confirm the existence of such a temperature, called absolute zero . An absolute temperature scale is one whose zero point is absolute zero. Such scales are convenient in science because several physical quantities, such as the volume of an ideal gas, are directly related to absolute temperature.