Earth's atmosphere

The Earth's atmosphere is a layer of gases that surround the planet, and which are held there by the Earth's gravity. The atmosphere contains roughly 78.1% nitrogen, 20.9% oxygen, 0.9% argon, 0.038% carbon dioxide, trace amounts of other gases, and a variable amount of water vapour. This mixture of gases is commonly known as air. The atmosphere protects life on Earth by absorbing ultraviolet solar radiation and reducing temperature extremes between day and night.
The structure of the atmosphere
The earth's atmosphere is divided into different layers, each with its own particular characteristics ( [link] ).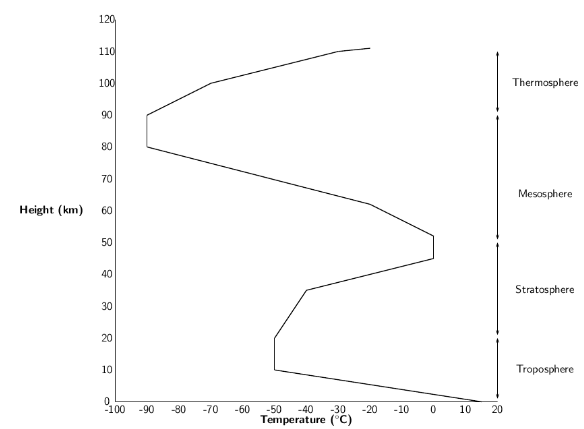 The troposphere
The troposphere is the lowest level in the atmosphere, and it is the part in which we live. The troposphere varies in thickness, and extends from the ground to a height of about 7km at the poles and about 18km at the equator. An important characteristic of the troposphere is that its temperature decreases with an increase in altitude. In other words, as you climb higher, it will get colder. You will have noticed this if you have climbed a mountain, or if you have moved from a city at a high altitude to one which is lower; the average temperature is often lower where the altitude is higher. This is because the troposphere is heated from the 'bottom up'. In other words, places that are closer to the Earth's surface will be warmer than those at higher altitudes. The heating of the atmosphere will be discussed in more detail later in this chapter.
The word troposphere comes from the Greek tropos , meaning turning or mixing . The troposphere is the most turbulent (or agitated) part of the atmosphere and is the part where our weather takes place. Weather is the state of the air at a particular place and time e.g. if it is warm or cold, wet or dry, and how cloudy or windy it is. Generally, jet aircraft fly just above the troposphere to avoid all this turbulence.
The stratosphere
Above the troposphere is another layer called the stratosphere , where most long distance aircraft fly. The stratosphere extends from altitudes of 10 to 50km. If you have ever been in an aeroplane and have looked out the window once you are well into the flight, you will have noticed that you are actually flying above the level of the clouds. As we have already mentioned, clouds and weather occur in the troposphere, whereas the stratosphere has very stable atmospheric conditions and very little turbulence. It is easy to understand why aircraft choose to fly here!
The stratosphere is different from the troposphere because its temperature increases as altitude increases. This is because the stratosphere absorbs solar radiation directly, meaning that the upper layers closer to the sun will be warmer. The upper layers of the stratosphere are also warmer because of the presence of the ozone layer . Ozone (O ) is formed when solar radiation splits an oxygen molecule (O ) into two atoms of oxygen. Each individual atom is then able to combine with an oxygen molecule to form ozone. The two reactions are shown below: