Calculating torque on a rigid body
[link]
shows several forces acting at different locations and angles on a flywheel. We have , , and . Find the net torque on the flywheel about an axis through the center.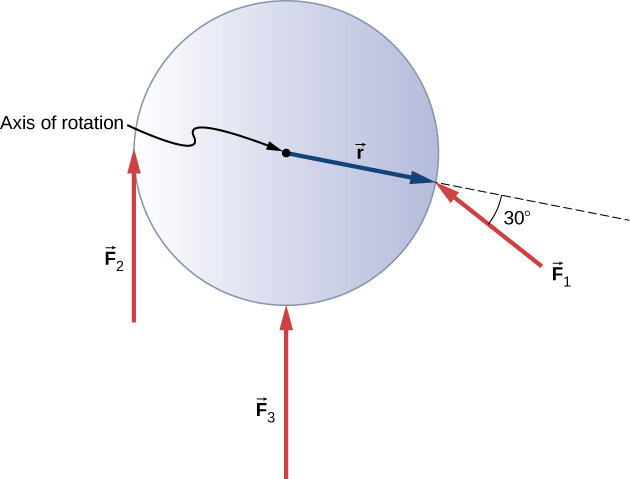 Strategy
We calculate each torque individually, using the cross product, and determine the sign of the torque. Then we sum the torques to find the net torque.
Solution
We start with . If we look at
[link]
, we see that makes an angle of with the radius vector . Taking the cross product, we see that it is out of the page and so is positive. We also see this from calculating its magnitude:
Next we look at . The angle between and is and the cross product is into the page so the torque is negative. Its value is
When we evaluate the torque due to , we see that the angle it makes with is zero so Therefore, does not produce any torque on the flywheel.
We evaluate the sum of the torques:
Significance
The axis of rotation is at the center of mass of the flywheel. Since the flywheel is on a fixed axis, it is not free to translate. If it were on a frictionless surface and not fixed in place, would cause the flywheel to translate, as well as . Its motion would be a combination of translation and rotation.
Got questions? Get instant answers now!