Check Your Understanding An engineer builds two simple pendulums. Both are suspended from small wires secured to the ceiling of a room. Each pendulum hovers 2 cm above the floor. Pendulum 1 has a bob with a mass of 10 kg. Pendulum 2 has a bob with a mass of 100 kg. Describe how the motion of the pendulums will differ if the bobs are both displaced by .
The movement of the pendulums will not differ at all because the mass of the bob has no effect on the motion of a simple pendulum. The pendulums are only affected by the period (which is related to the pendulum's length) and by the acceleration due to gravity.
Got questions? Get instant answers now!
Physical pendulum
Any object can oscillate like a pendulum. Consider a coffee mug hanging on a hook in the pantry. If the mug gets knocked, it oscillates back and forth like a pendulum until the oscillations die out. We have described a simple pendulum as a point mass and a string. A physical pendulum is any object whose oscillations are similar to those of the simple pendulum, but cannot be modeled as a point mass on a string, and the mass distribution must be included into the equation of motion.
As for the simple pendulum, the restoring force of the physical pendulum is the force of gravity. With the simple pendulum, the force of gravity acts on the center of the pendulum bob. In the case of the physical pendulum, the force of gravity acts on the center of mass (CM) of an object. The object oscillates about a point O . Consider an object of a generic shape as shown in [link] .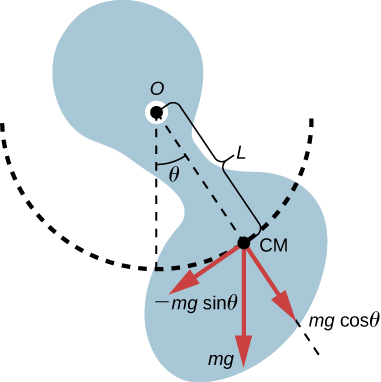 When a physical pendulum is hanging from a point but is free to rotate, it rotates because of the torque applied at the CM, produced by the component of the object's weight that acts tangent to the motion of the CM. Taking the counterclockwise direction to be positive, the component of the gravitational force that acts tangent to the motion is . The minus sign is the result of the restoring force acting in the opposite direction of the increasing angle. Recall that the torque is equal to . The magnitude of the torque is equal to the length of the radius arm times the tangential component of the force applied, . Here, the length L of the radius arm is the distance between the point of rotation and the CM. To analyze the motion, start with the net torque. Like the simple pendulum, consider only small angles so that . Recall from Fixed-Axis Rotation on rotation that the net torque is equal to the moment of inertia times the angular acceleration where :
Using the small angle approximation and rearranging: