Earth's rotation is slow enough that Earth is nearly an inertial frame. You ordinarily must perform precise experiments to observe fictitious forces and the slight departures from Newton's laws, such as the effect just described. On a large scale, such as for the rotation of weather systems and ocean currents, the effects can be easily observed ( [link] ).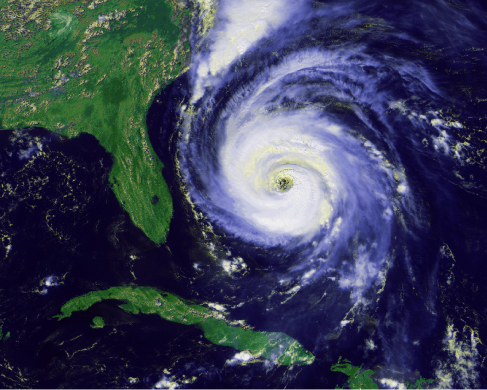 The crucial factor in determining whether a frame of reference is inertial is whether it accelerates or rotates relative to a known inertial frame. Unless stated otherwise, all phenomena discussed in this text are in inertial frames.
The forces discussed in this section are real forces, but they are not the only real forces. Lift and thrust, for example, are more specialized real forces. In the long list of forces, are some more basic than others? Are some different manifestations of the same underlying force? The answer to both questions is yes, as you will see in the treatment of modern physics later in the text.
Summary
When an object rests on a surface, the surface applies a force to the object that supports the weight of the object. This supporting force acts perpendicular to and away from the surface. It is called a normal force.
When an object rests on a nonaccelerating horizontal surface, the magnitude of the normal force is equal to the weight of the object.
When an object rests on an inclined plane that makes an angle with the horizontal surface, the weight of the object can be resolved into components that act perpendicular and parallel to the surface of the plane.
The pulling force that acts along a stretched flexible connector, such as a rope or cable, is called tension. When a rope supports the weight of an object at rest, the tension in the rope is equal to the weight of the object. If the object is accelerating, tension is greater than weight, and if it is decelerating, tension is less than weight.
The force of friction is a force experienced by a moving object (or an object that has a tendency to move) parallel to the interface opposing the motion (or its tendency).
The force developed in a spring obeys Hooke's law, according to which its magnitude is proportional to the displacement and has a sense in the opposite direction of the displacement.
Real forces have a physical origin, whereas fictitious forces occur because the observer is in an accelerating or noninertial frame of reference.