Discuss the method of heat transfer by convection.
Convection is driven by large-scale flow of matter. In the case of Earth, the atmospheric circulation is caused by the flow of hot air from the tropics to the poles, and the flow of cold air from the poles toward the tropics. (Note that Earth's rotation causes the observed easterly flow of air in the northern hemisphere). Car engines are kept cool by the flow of water in the cooling system, with the water pump maintaining a flow of cool water to the pistons. The circulatory system is used the body: when the body overheats, the blood vessels in the skin expand (dilate), which increases the blood flow to the skin where it can be cooled by sweating. These vessels become smaller when it is cold outside and larger when it is hot (so more fluid flows, and more energy is transferred).
The body also loses a significant fraction of its heat through the breathing process.
While convection is usually more complicated than conduction, we can describe convection and do some straightforward, realistic calculations of its effects. Natural convection is driven by buoyant forces: hot air rises because density decreases as temperature increases. The house in [link] is kept warm in this manner, as is the pot of water on the stove in [link] . Ocean currents and large-scale atmospheric circulation transfer energy from one part of the globe to another. Both are examples of natural convection.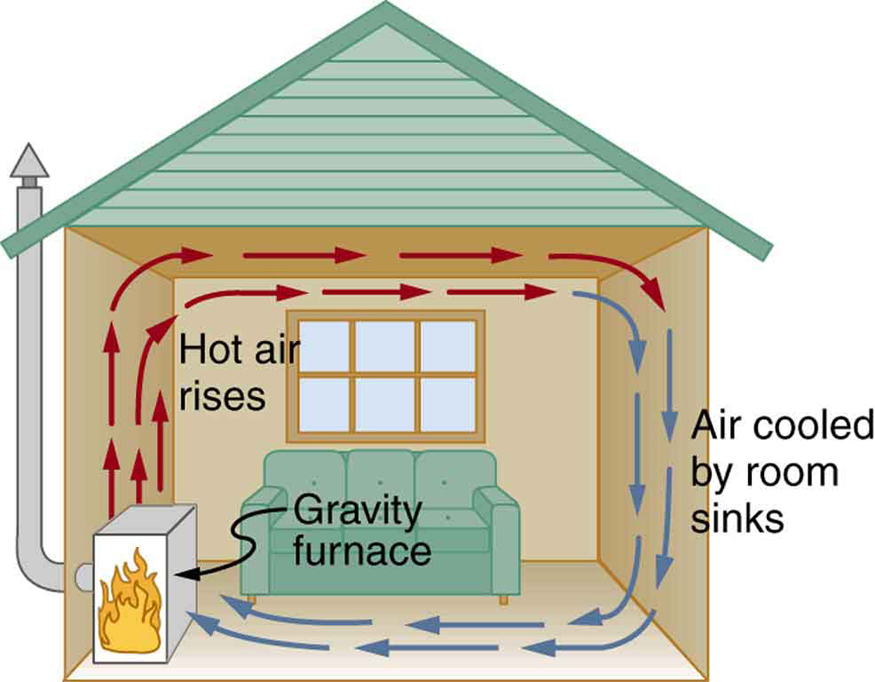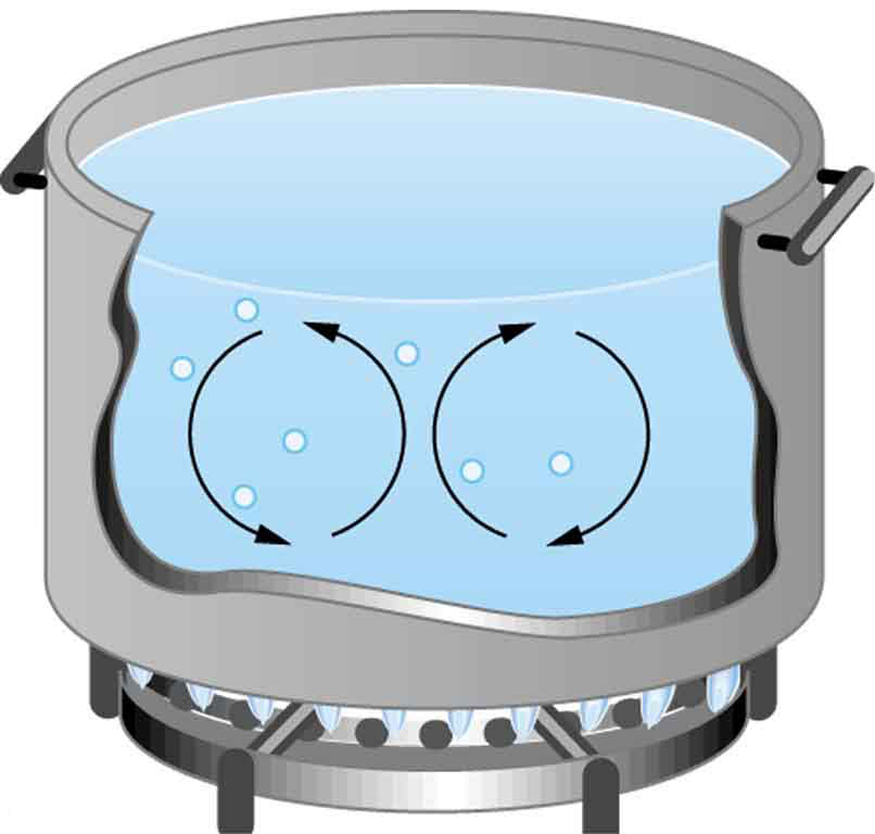 Take-home experiment: convection rolls in a heated pan
Take two small pots of water and use an eye dropper to place a drop of food coloring near the bottom of each. Leave one on a bench top and heat the other over a stovetop. Watch how the color spreads and how long it takes the color to reach the top. Watch how convective loops form.
Calculating heat transfer by convection: convection of air through the walls of a house
Most houses are not airtight: air goes in and out around doors and windows, through cracks and crevices, following wiring to switches and outlets, and so on. The air in a typical house is completely replaced in less than an hour. Suppose that a moderately-sized house has inside dimensions high, and that all air is replaced in 30.0 min. Calculate the heat transfer per unit time in watts needed to warm the incoming cold air by , thus replacing the heat transferred by convection alone.