The scanning electron microscope (SEM) provides images by using secondary electrons produced by the primary beam interacting with the surface of the sample (see [link] ). The SEM also uses magnetic lenses to focus the beam onto the sample. However, it moves the beam around electrically to "scan" the sample in the x and y directions. A CCD detector is used to process the data for each electron position, producing images like the one at the beginning of this chapter. The SEM has the advantage of not requiring a thin sample and of providing a 3-D view. However, its resolution is about ten times less than a TEM.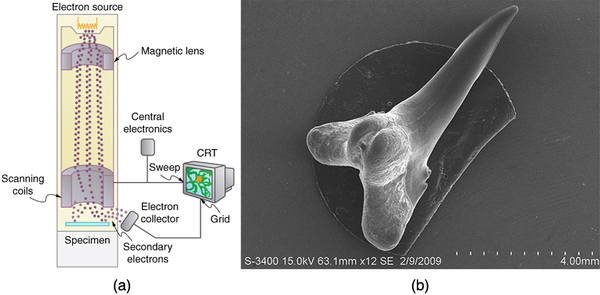 Electrons were the first particles with mass to be directly confirmed to have the wavelength proposed by de Broglie. Subsequently, protons, helium nuclei, neutrons, and many others have been observed to exhibit interference when they interact with objects having sizes similar to their de Broglie wavelength. The de Broglie wavelength for massless particles was well established in the 1920s for photons, and it has since been observed that all massless particles have a de Broglie wavelength The wave nature of all particles is a universal characteristic of nature. We shall see in following sections that implications of the de Broglie wavelength include the quantization of energy in atoms and molecules, and an alteration of our basic view of nature on the microscopic scale. The next section, for example, shows that there are limits to the precision with which we may make predictions, regardless of how hard we try. There are even limits to the precision with which we may measure an object's location or energy.
Section summary
Particles of matter also have a wavelength, called the de Broglie wavelength, given by , where is momentum.
Matter is found to have the same interference characteristics as any other wave.
Conceptual questions
Problems&Exercises