"weightlessness" and microgravity
In contrast to the tremendous gravitational force near black holes is the apparent gravitational field experienced by astronauts orbiting Earth. What is the effect of "weightlessness" upon an astronaut who is in orbit for months? Or what about the effect of weightlessness upon plant growth? Weightlessness doesn't mean that an astronaut is not being acted upon by the gravitational force. There is no "zero gravity" in an astronaut's orbit. The term just means that the astronaut is in free-fall, accelerating with the acceleration due to gravity. If an elevator cable breaks, the passengers inside will be in free fall and will experience weightlessness. You can experience short periods of weightlessness in some rides in amusement parks.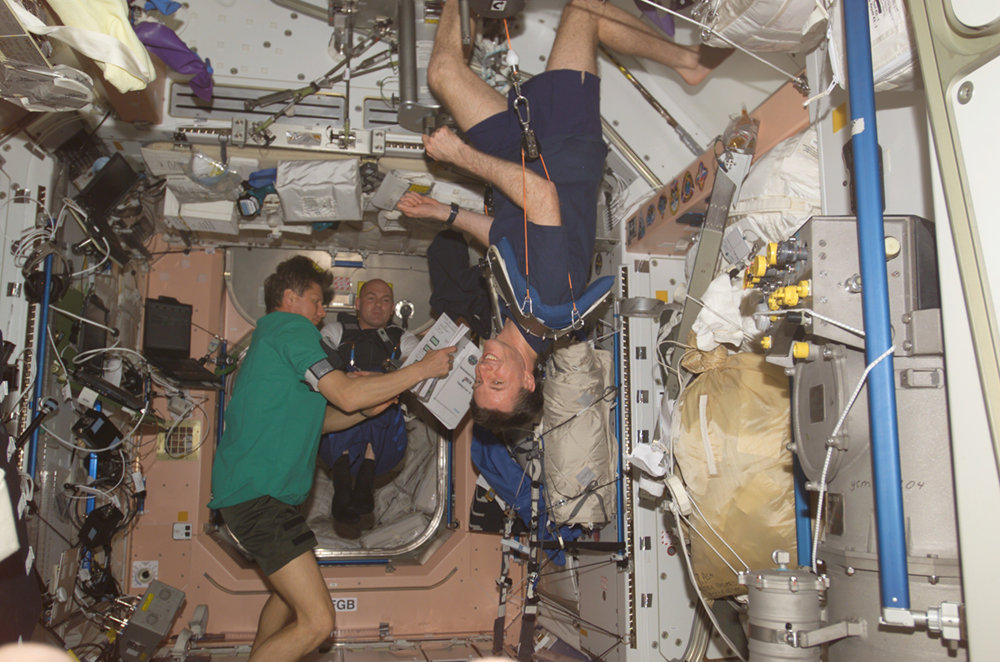 Microgravity refers to an environment in which the apparent net acceleration of a body is small compared with that produced by Earth at its surface. Many interesting biology and physics topics have been studied over the past three decades in the presence of microgravity. Of immediate concern is the effect on astronauts of extended times in outer space, such as at the International Space Station. Researchers have observed that muscles will atrophy (waste away) in this environment. There is also a corresponding loss of bone mass. Study continues on cardiovascular adaptation to space flight. On Earth, blood pressure is usually higher in the feet than in the head, because the higher column of blood exerts a downward force on it, due to gravity. When standing, 70% of your blood is below the level of the heart, while in a horizontal position, just the opposite occurs. What difference does the absence of this pressure differential have upon the heart?
Some findings in human physiology in space can be clinically important to the management of diseases back on Earth. On a somewhat negative note, spaceflight is known to affect the human immune system, possibly making the crew members more vulnerable to infectious diseases. Experiments flown in space also have shown that some bacteria grow faster in microgravity than they do on Earth. However, on a positive note, studies indicate that microbial antibiotic production can increase by a factor of two in space-grown cultures. One hopes to be able to understand these mechanisms so that similar successes can be achieved on the ground. In another area of physics space research, inorganic crystals and protein crystals have been grown in outer space that have much higher quality than any grown on Earth, so crystallography studies on their structure can yield much better results.
Plants have evolved with the stimulus of gravity and with gravity sensors. Roots grow downward and shoots grow upward. Plants might be able to provide a life support system for long duration space missions by regenerating the atmosphere, purifying water, and producing food. Some studies have indicated that plant growth and development are not affected by gravity, but there is still uncertainty about structural changes in plants grown in a microgravity environment.