The Coriolis force causes hurricanes in the northern hemisphere to rotate in the counterclockwise direction, while the tropical cyclones (what hurricanes are called below the equator) in the southern hemisphere rotate in the clockwise direction. The terms hurricane, typhoon, and tropical storm are regionally-specific names for tropical cyclones, storm systems characterized by low pressure centers, strong winds, and heavy rains. [link] helps show how these rotations take place. Air flows toward any region of low pressure, and tropical cyclones contain particularly low pressures. Thus winds flow toward the center of a tropical cyclone or a low-pressure weather system at the surface. In the northern hemisphere, these inward winds are deflected to the right, as shown in the figure, producing a counterclockwise circulation at the surface for low-pressure zones of any type. Low pressure at the surface is associated with rising air, which also produces cooling and cloud formation, making low-pressure patterns quite visible from space. Conversely, wind circulation around high-pressure zones is clockwise in the northern hemisphere but is less visible because high pressure is associated with sinking air, producing clear skies.
The rotation of tropical cyclones and the path of a ball on a merry-go-round can just as well be explained by inertia and the rotation of the system underneath. When non-inertial frames are used, fictitious forces, such as the Coriolis force, must be invented to explain the curved path. There is no identifiable physical source for these fictitious forces. In an inertial frame, inertia explains the path, and no force is found to be without an identifiable source. Either view allows us to describe nature, but a view in an inertial frame is the simplest and truest, in the sense that all forces have real origins and explanations.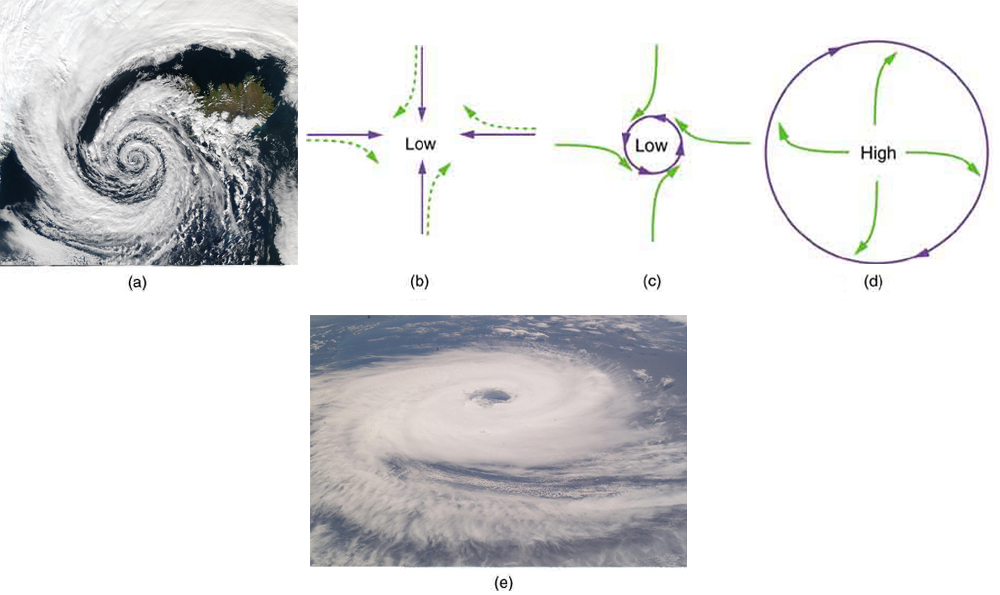 Section summary
Rotating and accelerated frames of reference are non-inertial.
Fictitious forces, such as the Coriolis force, are needed to explain motion in such frames.
Conceptual questions