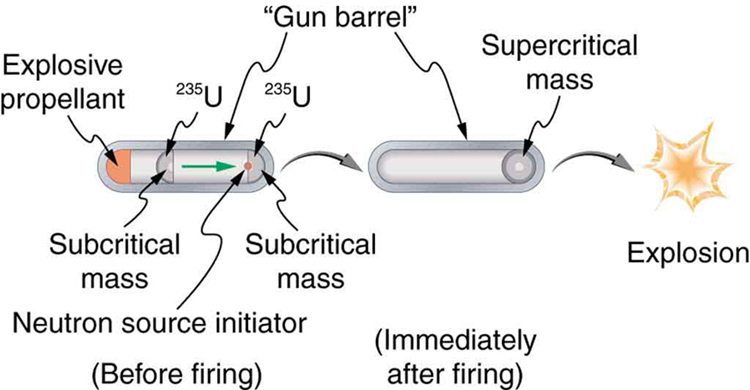 Plutonium's special properties necessitated a more sophisticated critical mass assembly, shown schematically in [link] . A spherical mass of plutonium is surrounded by shape charges (high explosives that release most of their blast in one direction) that implode the plutonium, crushing it into a smaller volume to form a critical mass. The implosion technique is faster and more effective, because it compresses three-dimensionally rather than one-dimensionally as in the gun-type bomb. Again, a neutron source must be triggered at just the correct time to initiate the chain reaction.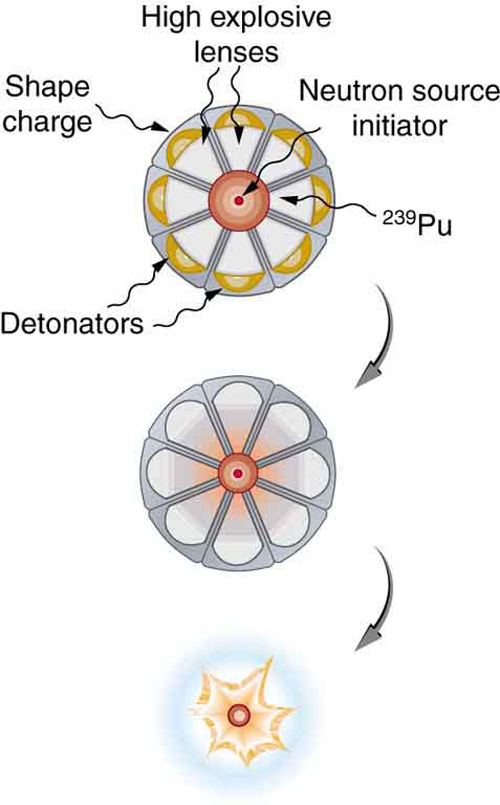 Owing to its complexity, the plutonium bomb needed to be tested before there could be any attempt to use it. On July 16, 1945, the test named Trinity was conducted in the isolated Alamogordo Desert about 200 miles south of Los Alamos (see [link] ). A new age had begun. The yield of this device was about 10 kilotons (kT), the equivalent of 5000 of the largest conventional bombs.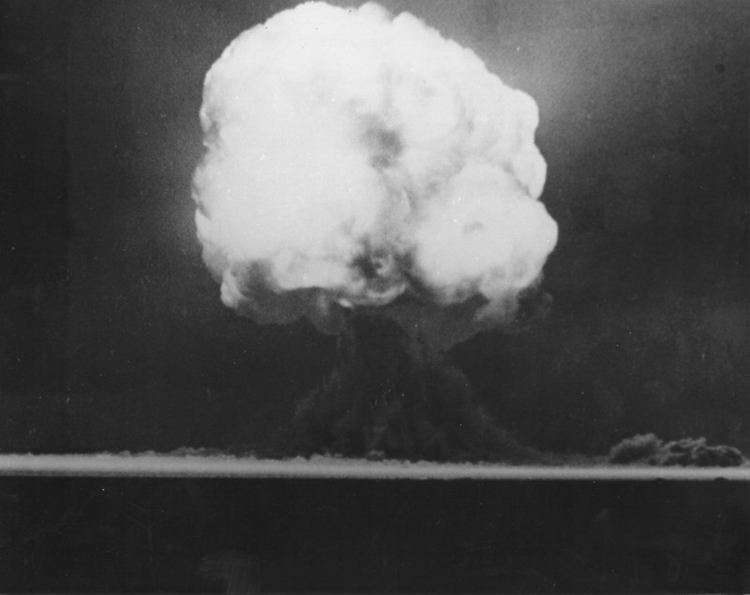 Although Germany surrendered on May 7, 1945, Japan had been steadfastly refusing to surrender for many months, forcing large casualties. Invasion plans by the Allies estimated a million casualties of their own and untold losses of Japanese lives. The bomb was viewed as a way to end the war. The first was a uranium bomb dropped on Hiroshima on August 6. Its yield of about 15 kT destroyed the city and killed an estimated 80,000 people, with 100,000 more being seriously injured (see [link] ). The second was a plutonium bomb dropped on Nagasaki only three days later, on August 9. Its 20 kT yield killed at least 50,000 people, something less than Hiroshima because of the hilly terrain and the fact that it was a few kilometers off target. The Japanese were told that one bomb a week would be dropped until they surrendered unconditionally, which they did on August 14. In actuality, the United States had only enough plutonium for one more and as yet unassembled bomb.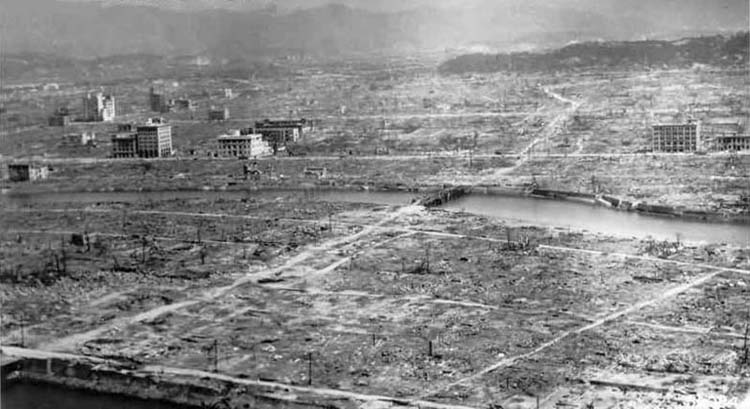 Knowing that fusion produces several times more energy per kilogram of fuel than fission, some scientists pushed the idea of a fusion bomb starting very early on. Calling this bomb the Super, they realized that it could have another advantage over fission—high-energy neutrons would aid fusion, while they are ineffective in fission. Thus the fusion bomb could be virtually unlimited in energy release. The first such bomb was detonated by the United States on October 31, 1952, at Eniwetok Atoll with a yield of 10 megatons (MT), about 670 times that of the fission bomb that destroyed Hiroshima. The Soviets followed with a fusion device of their own in August 1953, and a weapons race, beyond the aim of this text to discuss, continued until the end of the Cold War.